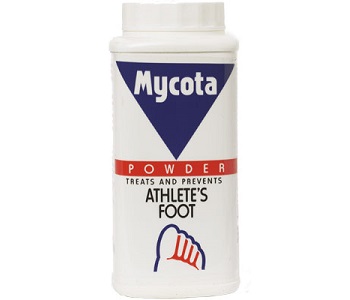 User Ratings (

0

Votes)

0
Athlete's Foot can be hard to get rid of as the fungal infection is so stubborn. It can lie dormant only to rear its head again and cause the skin between the toes to become white and flaky or even bleed when scratched, or to develop blisters. Tinea pedis spores need to be contained in the footwear such as socks and shoes as well. It is caused by the same fungus that causes ringworm and jock itch, and is highly contagious. There are about 119 species of the fungus that could be lying dormant and ready to cause an infection when the moist, dark conditions it seeks are satisfied.
When you have an infection, the thing you'd most want to be rid of immediately is the itch. The remedy we review today is called Mycota Powder. It is marketed as having powerful antifungal and antibacterial properties.
Ingredients
undecylenic acid 2%
zinc undecylenate 20%
Undecylenic acid is a strong antifungal and antibacterial. It is a fatty acid that is mostly used as a zinc salt. It prevents the growth of the fungus. As this is in powder form, it will definitely work topically but you may be prone to reinfection as it cannot sink deeply into the skin to where the fungus is hiding to kill it in its base camp as well.
Dosage
Wash and dry the affected areas, then apply morning and evening during an active infection. Continue doing this for two weeks after the infection has disappeared. To prevent Athlete's Foot, sprinkle the powder over the inside of clean socks and shoes you intend to wear.
Price
You'll be able to buy a 70g bottle on Amazon for $2.25. It is widely available in pharmacies and stores.
Guarantee & Feedback
Very little is disclosed on the product website and we couldn't find evidence of a manufacturer returns policy elsewhere either after having searched quite extensively. Consumers give the powder good reviews.
Our Conclusive Review of Mycota Powder
Undecylenic acid is one of the best ways to deal with and eliminate pathogens such as fungi and bacteria. Mycota Powder contains 22% of the acid altogether which is a potent formulation. It is also cost effective and quite popular, with those using it saying they keep some on hand for whenever the next infection occurs.
And that is precisely the problem with Athlete's Foot – it recurs again and again because it is so stubborn and difficult to wipe out. There is no denying that a formula such as this one is bound to bring quick topical relief. For long-term abatement though, this same kind of formula need to be carried on oils, preferably anti inflammatory herbal oils, to sink deep under the skin to reach the fungus where it lies dormant. The best products we have seen are formulated with the maximum undecylenic acid 25% strength, and are designed to be deeply absorbed into the skin. In addition, look for such a product that is also covered by a money back returns policy if it does not work so as to be assured of not needlessly buying yet another treatment in the hope of significantly curbing your tinea pedis once and for all.
Bringing you top reviews and product analysis - Consumer Advisors.