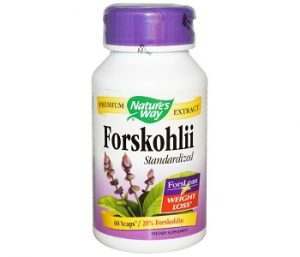 User Ratings (

0

Votes)

0
This Nature's Way Forskohlii Review aims to determine what makes this supplement different from other Forskohlin products out there. According to Nature's Way, its Forskohlii product is created to assist their users in losing weight with the aid of a special extract blend it calls Forslean. The manufacturer says this formulation is linked to fat burning abilities to make weight loss easier. Is there any truth to these claims? Let's find out below.
Ingredients
ForsLean (Coleaus Forskohlii) Root Extract standardized to 20% forskolin – 125mg
Coleus forskohlii Root Extract standardized to 1% forskolin – 1.25 mg
Cellulose
Plant-derived capsule
Silica
From what we have gathered about Forslean, this ingredient is actually used to help support weight loss by boosting one's metabolism. It aids in weight loss without undergoing intense training. The rest of the ingredients aid in faster absorption of forskolin to speed up the process of shedding excess weight.
Dosage
The manufacturer suggests taking one capsule, two times per day. To get its full benefits, you should take each capsule before a meal.
Possible Side Effects
We did not find any side effects linked to this product. This might be due to the fact that this supplement is made from all-natural ingredients. However, pregnant women or those taking other medications or supplements should consult with their doctors prior to taking this dietary supplement to ensure that there are no adverse effects.
Price
If you are going to purchase Nature's Way Forskohlii direct from the manufacturer, you will be asked to choose whether you're going to buy it from a retail outlet near you or online. The price of Forskohlii on Amazon at the time or four review was $18.48 for a one-month supply, which is reasonable. You could purchase two for only $35.00.
Guarantee & Feedback
We did not see any mention of a guarantee on the Nature's Way website. This is something to take note of when you're considering buying this product as there are risks involved. It seems you cannot return it for a refund.
The 17 Amazon customer reviews (at the time of writing) did not bode particularly well for this product with 70% positive (an ok percentage in this category) and 24% negative (a high percentage for this category).
Our Conclusive Review of Nature's Ways Forskohlii
After carefully studying the data that we have on about Nature's Way Forskohlii review, we believe that this weight loss does not appear to be particularly distinguished. What we like best about this product is that it makes use of an all-natural ingredients without adding any additives, binders or fillers. Also, the price is relatively inexpensive, so this is worth taking note of.
However, the lack of any guarantee is a cause for concern as it leaves you at risk of not receiving a refunds if you are not happy with the results. The website itself doesn't provide sufficient information but perhaps if you contact Nature's Way directly, you will be able to get additional details.
Bringing you top reviews and product analysis - Consumer Advisors.