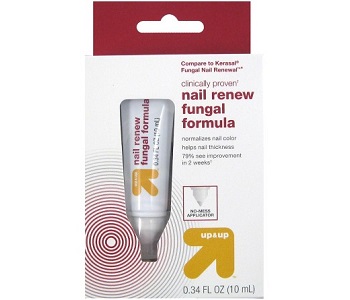 User Ratings (

0

Votes)

0
Read our review below about Nail Renew Fungal Nail Renewal Treatment, a topical fungus formula that is intended to eliminate the fungal agents that are responsible for destroying your nails. It combats fungus that develops at the surface and underneath your nail by penetrating the bed of your finger and toenails.
Ingredients
Peg-8 (Polyethylene Glycol 8)
Compound Blends
Aloe vera has properties that help inhibit fungal growth. It's natural properties are full of nutrients and vitamins that are easily absorbed by the body, and help to provide relief and soften the infected area. Peg-8' purpose is to penetrate the nail bed and deliver antifungal properties to the source of the fungus. The compound blends also contribute in targeting the agents that develop the fungus. The above ingredients are disclosed on the manufacturer's website. However, on one of the third-party retailers website the ingredients are different. It is stated that the active ingredient in this product is Tolnaftate, which is confusing.
Dosage
The recommended application is 1 to 3 drops two times a day to fingernails or toenails. It is also mentioned that some users might need to apply it more frequently during the day to speed the results. It is suggested that you first clean your nails, cut the excessive infected nails, file them, then apply the formula and allow it to dry.
Price
You can purchase this product through the manufacturer's website at varying prices. One bottle costs $59.95. However, you pay $39.95 per bottle if you buy three bottles at once, and you do not pay the shipping costs. You pay $35.95 if you buy 5 bottles, and you also do not pay for shipping.
Guarantee & Feedback
The manufacturer offers a 60-day money-back guarantee for the consumers. This is good because it assures the consumers that the manufacturer cares about their satisfaction. Money-back guarantee means that you can return the product anytime within the stipulated period if you somehow are not satisfied with the product, for a refund. There are only 11 reviews on this product, which is not good and not enough to help prospective consumers in making their purchasing decisions.
Our Conclusive Review about Nail Renew Fungal Nail Renewal Treatment
Nail Renew Fungal Nail Renewal Treatment seems to be a promising product for combating fungus on your fingernails and toenails. The manufacturer supports this claim with a money-back guarantee, showing that they are confident on the effectiveness of the product. We like that they are honest on their website by stating that results may differ per individuals. Moreover, they are prepared to refund you within 60 days if it does not work for you. This is all good, however, we have few concerns. We discovered that the information on the ingredients posted on one of the retailer's website are different to those posted on the manufacturer's website, but the product is exactly the same. This is a huge concern because it is important that information regarding ingredients is clear, to ensure consumer safety. Some individuals might be allergic to certain ingredients. We are also concerned that there are only 11 reviews on this product, because that tells us that there are few people who have bought it. It is difficult for us to recommend something that its effectiveness has not been confirmed by many. The confusion on the ingredients is also another issue. We recommend that you rather look for something else.
Bringing you top reviews and product analysis - Consumer Advisors.