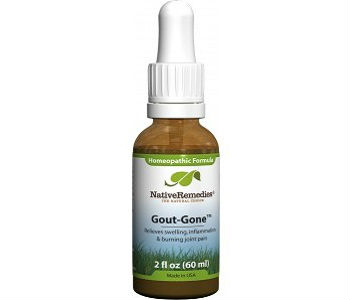 User Ratings (

0

Votes)

0
This review examines the claims made about the Native Remedies Gout-Gone supplement to find out whether they hold any value. Native Remedies Gout-Gone is a supplement formulated for the relief of symptoms associated with gout. It is marketed as a homeopathic treatment solution for temporarily relieving pain, aches, swelling, and other gout symptoms.
Gout-Gone also relieves redness and swelling in the toes and small joints. The supplement also claims to provide overall joint support and maintains uric acid levels within normal range. Manufacturer claims state that the supplement comprises 100% homeopathic ingredients, which makes it safe for short and long-term use.
Ingredients
Here is the list of ingredients in Gout-Gone:
Antimonium crud 6C HPSU – Relieves gout symptoms including pain in the fingers, feet, and heels. Particularly targets pain in very tender feet with large bones.
Quercus 12C HPUS – Relieves gout related pain.
Ledum 6C HPUS – Eases pain in the feet and joints, particularly in the small joints. Reduces swelling in the big toe.
Nux vom 6C HPUS – Relieves brittleness in joints (cracking joints) especially the knee joints.
Silicea 6X HPUS – Supports the connective tissue in joints.
Benzoic acid 6C HPUS – Relieves rheumatic gout symptoms and cracks in joints during motion.
Rhododendron 6C HPUS – Fights rheumatic gout symptoms, swelling in joints, inflammation in the big toe, and relieves gout symptoms that worsen with weather.
Dosage
For the first dose, it is recommended to take 0.5ml of Gout-Gone every 30 minutes. Subsequently, it is advised to take 0.25ml 3-5 times daily.
Possible Side Effects
While there are no known adverse effects of using this supplement, caution should be taken by pregnant women, lactating mothers, and people on prescription medication.
Also, note that individual ingredients may cause reactions of varying degrees in different individuals. Discontinue use if you develop uncomfortable symptoms.
Price
Gout-Gone costs $39.95 online. There's a 'buy 2 get 1 free' offer on the manufacturer's website that you can take advantage of to buy at a discounted price.
A bottle may last from 30 to 60 days depending on frequency of usage.
Guarantee & Feedback
Gout-Gone is offered with a one-year money back guarantee.  You have to try the product for at least 30 days before you can return the product.
As for user reviews, we could only find two on the official website and they were both positive. The lack of reviews could mean this product is not very popular. It could also mean the reviews are screened by the manufacturer.
Our Conclusive Review About Native Remedies Gout-Gone
Gout Gone from Native Remedies does not claim to cure gout. It is formulated to relieve multiple symptoms associated with gout, and we applaud the makers for not misleading potential buyers about what the supplement does. We also liked the fact that there's a one year moneyback guarantee, which means that there might be  some substance in the claims made for the product.
However, we were not fully convinced with all the claims. We also found the list of ingredients lacking in details, so we could not do further independent research on individual ingredients. There's no indication as to what the main ingredient is.
Overall, we advise potential buyers to try out other supplements with clearly defined ingredients backed by some facts from the science world.
Bringing you top reviews and product analysis - Consumer Advisors.