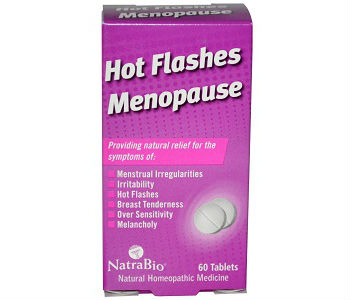 User Ratings (

0

Votes)

0
NatraBio Hot Flashes/Menopause is a homeopathic supplement that is designed to help reduce hot flashes during the phases of menopause. It may also treat other symptoms of menopause.
Ingredients
NatraBio is made from the following ingredients and four inactive ingredients:
Active Ingredients
Cimicifuga racemosa – this is more commonly known as black cohosh. It has been used to centuries to treat various menopausal symptoms. Several studies have shown that black cohosh may provide relief for up to one year of the most common discomforts like headaches, changes in mood, irritability, vaginal dryness and excess sweating.
Sanguinaria Canadensis – more commonly known as bloodroot. It is used to help reduce the frequency of vomiting; helps ease constipation and reduce tooth pain. It contains chemicals that help fight bacteria, inflammation and plaque on the teeth.
Ignatia amara – comes from the seeds of the St. Ignatius bean tree. It is found in the Philippines and other Southeastern Asian countries. It is used primarily to treat short term anxiety.
Helonias dioica – more commonly called false unicorn, it is used mainly to treat ovarian cysts, problems related to menstruation and menopause. It is believed to contain chemicals that stimulate the uterus and kill intestinal worms. It may also help increase urination.
Sepia – used in homeopathic medicine to treat the discomforts of menopause and premenstrual syndrome.
Oophorinum – is used in homeopathic medicines to treat the discomforts of endometriosis.
Lachesis – derived from the venom of the deadly bushmaster snake, it is used most often to treat menopause discomforts, blood circulation, spasms, sore throat and heart disorders.
Inactive Ingredients
Cellulose
Dextrose
Lactose
Magnesium Stearate
Dosage
NatraBio Hot Flashes/Menopause comes in the form of a chewable tablet. It is recommended to chew one tablet and let it dissolve in the mouth every two hours until an improvement is seen in your symptoms. Four tablets may be taken daily or generally as needed to maintain relief.
Side Effects
Sepia has some side effects that may make women feel their uterus is very heavy and "falling out".  As with all supplements or homeopathic remedies, please consult a physician if you experience any unwanted side effects are unsure if you should take this.
Price
A 15 day supply in the amount of 60 tablets costs a suggested retail price of $8.99.
Guarantee
NatroBio Hot Flashes/Menopause does offer a 30 day money back guarantee. Their site also provides customer service contact details.
Conclusion Of Our NatraBio Hot Flashes/Menopause Review
In comparison to other supplements available, NatraBio is relatively inexpensive for a limited supply.  However the site is lacking any information about the products proven effectiveness or any customer testimonials.
Bringing you top reviews and product analysis - Consumer Advisors.