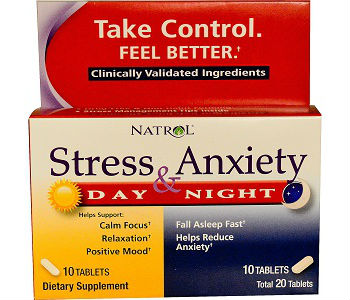 User Ratings (

0

Votes)

0
Natrol Stress and Anxiety is a supplement designed to reduce the onset of anxiety and to manage its symptoms. Anxiety is categorized by increased stress with regard to situations that would not normally warrant it. Anxiety is quite common in the population, and it incidence may be on the increase. It is mainly caused by a change in brain chemistry that occurs after consistent and frequent stressful events. This change in brain chemistry results in certain areas of the brain –  those which stimulate stress – being hyperactive. This supplement aims to restore brain chemistry to normal thus reducing the onset of anxiety.
Ingredients
The formulation for this product is that there is one supplement for the day time and one for the night time. The day time formula contains two neurotransmitters (actually a precursor in one case). L-theanine, the one neurotransmitter, acts on the brain cells which promote relaxation. The other, 5-hydroxytryptophan  is a precursor to serotonin. Serotonin is the classical neurotransmitter implicated in mood stability. To support these effects, vitamins B6, folate and B12 are also included. These vitamins increase levels of relevant neurotransmitters and have a relaxing effect on the muscles in the body.
The night time formula contains L-glutamine and melatonin. L-glutamine acts in the neurons which promote sleep onset. Melatonin is also responsible for this within a complex pathway. Vitamin E and grape seed extract have been included for their antioxidant effects – which promote brain health. Calcium has been included to increase levels of melatonin and valerian root extract to increase levels of another neurotransmitter called gamma aminobutyric acid.
Dosage
One capsule of each formula should be taken at the relevant times, that being at breakfast and before bed.
Possible Side Effects
No side effects have been reported with the use of this product but pregnant women, nursing mothers and people with a serious medical condition should consult a doctor before using this supplement.
Price
The supplement contains 30 capsules of the day time formula and 30 capsules of the night time formula. The joined package can be purchased online for $15.99.  This manufacturer does not appear to offer any discount for buying a bulk supply.
Guarantee & Feedback
This manufacturer does not have a returns policy or satisfaction guarantee. The customer feedback reviews for this product are mixed between positive and negative.
Our Conclusive Review About Natrol Stress and Anxiety
The ingredients present in this product are well researched and the price is very affordable. But the low price combined with mixed customer reviews suggest that this product might not be effective for various reasons. The lack of a guarantee also shows that the manufacturer has little confidence in their own product. Although the  relevant research is present, the interaction between ingredients and dosages may not have probably been considered.
The fact that the manufacturer does not provide any discount for bulk purchases also makes the long-term use of this supplement quite tedious and more expensive. We find this product to have multiple flaws compared to some of its competitors, so we would suggest researching other products.
Bringing you top reviews and product analysis - Consumer Advisors.