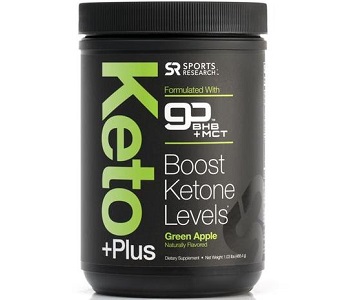 User Ratings (

0

Votes)

0
Read our review below about Sport Research Keto Plus, an energy supplement that combines exogenous ketone beta-hydroxybutyrate and medium chain triglycerides. It is intended to sustain your energy, boost your ketone levels and promote mental clarity and focus.
Ingredients
Beta-hydroxybutyrate (goBHB)
Triglycerides (goMCT)
Beta-hydroxybutyrate (goBHB) and Triglycerides (goMCT) are responsible for providing your body with energy, and promote muscle growth.
Other ingredients: Calcium Silicate, Malic Acid, Natural Flavor, Stevia, Monk Fruit, Fruit and Vegetable Juice, Silica, and Citric Acid.
Dosage
Mix one scoop with 8 to 10 Oz of water. Do not use more than two scoops a day. Shake the container before each use to ensure that the contents mix well.
Price
You can purchase Keto Plus  through the manufacturer's website for $50 per bottle. It is available in different flavours, but the price is similar. We saw that the manufacturer is offering a 15% discount on any product that you purchase through their website. However it does not state whether it is only valid for the day or not.
Possible Side Effects
Very high levels of triglycerides may cause heart, live and pancreas problems. Triglycerides is one of the ingredients contained in this supplement. Therefore, you should ensure that you do not take more than recommended. Pregnant, and breastfeeding individuals, and those who are on medication should talk to their doctor before taking Keto Plus.
Guarantee & Feedback
The manufacturer offers a 90-day money-back guarantee. During this time, you may return the product if you are unsatisfied with it, and they will refund you. However, you need to contact them to obtain an RA number which you will put on the package for return. The reviews on the manufacturer's website are all good and promising, but there are only three of them.
Our Conclusive Review about Sport Research Keto Plus
Sport Research Keto Plus could be beneficial to individuals who want to improve their energy. There are many consumers that have indicated that they were happy with the product after using it. The manufacturer offers a 90-day money-back guarantee, which shows that they are confident about the effectiveness of the product, and that they care about their customers' satisfaction. However, it is common that products do not work for everyone. We read some critical reviews, where consumers stated that the product did not work for them, some saying that the smell and taste are very bad, while one mentioned that when they contacted the manufacturer indicating that there were unsatisfied, they did not receive any response from them, which is concerning. Moreover, the price of this supplement is very high compared to similar products on the market.We are also worried about the side effects of taking high levels of triglycerides. However, this should not be a problem if one follows the instructions accordingly. We would like to recommend that you look for a product that is less pricey than this one, and one that has no, or less critical reviews. We would not recommend this particular supplement mostly because of the price and critical reviews about it.
Bringing you top reviews and product analysis - Consumer Advisors.