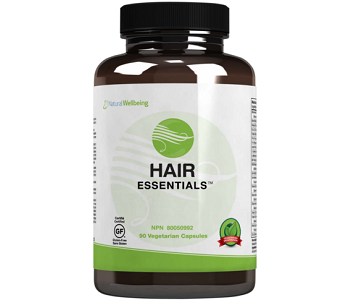 User Ratings (

0

Votes)

0
This review is for a product called Natural Wellbeing Hair Essentials, which is designed to promote healthy hair. It helps make your hair thicker and fuller. The manufacturer claims that this product works for both men and women, and is effective for all types of hair.
Ingredients
Vitamin E
Vitamin C
Vitamin A
Biotin
Selenium
Zinc
All these ingredients play their roles in promoting healthy hair. For instance, Biotin is usually used for hair loss, brittle nails, and skin conditions. Vitamin C helps in improving collagen production, which has a big effect on hair growth. Vitamin E reduces inflammation and promotes hair growth. Vitamin A is essential for growth, including hair.
Other ingredients: Silicon dioxide, Magnesium stearate, Rice flour, and Cellulose.
Dosage
The recommended dosage is 3 capsules, taken daily with a meal, or in divided doses, 1 capsule three times a day. If you experience any difficulty in swallowing the capsules, you may pour the contents out and mix it with juice, water, yogurt, honey or smoothies.
Only individuals who are 18 years of age and or older are allowed to take this supplement.
Possible Side Effects
The manufacturer advises that you discontinue taking Hair Essentials if you experience an adverse reaction, and consult your healthcare provider. If you are pregnant, breastfeeding or have any existing health condition or taking any medication, you are advised to consult your healthcare practitioner before taking it.
We discovered that one of the ingredients, Vitamin E might cause some illnesses worse. For instance, bleeding disorders, prostate cancer, stroke, etc might worsen due to Vitamin E consumption.
Price
Hair Essentials can be purchased through the manufacturer's website for $39.99 per bottle of 30 capsules. The manufacturer recommends a three month program, which means that you would need to buy three bottles at once, to cover the recommended months. That would come to a total of $119.97. Online third-party retailers also sell the product for $39.99, but you only pay $99.99 for three bottles.
Guarantee & Feedback
The manufacturer offers a 90-day money-back guarantee, during which you can return the product for a full refund if you are unsatisfied. The reviews on the manufacturer's website are good. However there are also critical reviews on one of the third-party retailers, which are concerning and are important to note.
Our Conclusive Review about Natural Wellbeing Hair Essentials
Natural Wellbeing Hair Essential is a promising product for improving healthy hair. Some of the ingredients, such as Biotin are known to be effective for hair. Moreover, this product has been scientifically proven to be effective in promoting hair growth. However, we did not like the critical reviews on one of the third-party retailers. In fact we became a bit worried. Some consumers stated that they developed an allergic reaction, some experienced headache, while some claimed that the product did not work. We find it unfair that the manufacturer recommends that you use the product for three months, but offer a three month money-back guarantee, because this does not give you time to ask for a refund if after three months you do not see any results. Lastly, the side effects of Vitamin E, which is one of the ingredients are concerning. We recommend that you rather try something else.
Bringing you top reviews and product analysis - Consumer Advisors.