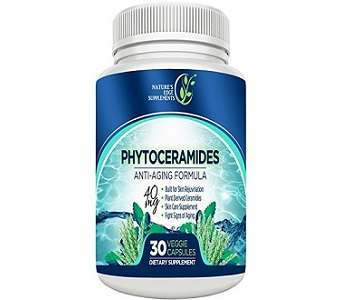 User Ratings (

0

Votes)

0
Everyone is always trying to look younger, and stay looking young for as long as possible. There are many anti-aging products and supplements out there that may help prevent some typical aging symptoms such as wrinkles and dry skin. One such product is Phytoceramides. They are a plant-based product that can hydrate your skin and keep it plump and smooth. It is similar to a natural lipid found in the body called ceramides. Ceramides are what keep us looking young and wrinkle free, but as we age you lose these ceramides, and your skin starts to dry up and wrinkle. In theory, taking phytoceramides as a replacement may help reverse the effects of aging. Read the review below of Nature's Edge Supplements Phytoceramides.
Ingredients
The active ingredients found in this supplement are Vitamin A, C, D and E, Ceramide-PCD. Other ingredients include vegetable cellulose, purified water, magnesium stearate, stearic acid, silicon dioxide. Unfortunately, there are reports that suggest  Magnesium stearate and stearic acid can actually slow down the rate at which supplements are absorbed into the gastrointestinal tract. In rare cases, the supplement may be rendered useless as some people's bodies cannot break down this compound.
Dosage
The recommended dosage is 2 capsules per day. The bottle contains 60 capsules. These capsules only contain 40 mg of Phytoceramides (the main anti-aging ingredient), which is quite low in comparison to other products.
Possible Side Effects
In general, there are no side effects associated with taking this Phytoceramides dietary supplement. However, always consult with your doctor before taking any supplements. You should not take this product if you suffer from allergies to wheat, gluten, sweet potatoes or rice.
Price
You can buy this product from different online retailers. We found these capsules on Overstock for $20.99 and they do not have an option for bulk orders. This one bottle will last for a month.
Guarantee & Feedback
You can purchase this supplement online. However, this company does not accept any returns on the product. If for some reason you are unsatisfied you will not be able to get a refund or any money back.
Our Conclusive Review of Nature's Edge Supplements Phytoceramides
In general, Nature's Edge Supplements Phytoceramides may actually give you the desired anti-aging results. Phytoceramides are known to actually penetrate through all four dermal layers of the skin, keep your skin hydrated and produce higher levels of collagen. Collagen is the main structural protein found in skin and other connective tissues to help keep skin taut and wrinkle free. The price of Nature's Edge Supplements Phytoceramides is $20.99 per bottle. There are no options for bulk orders. Usually, companies offer multi-value packs. Additionally, this specific company only contains 40 mg of Phytoceramides which is very low in comparison to other brands that have up to 350 mg of Phytoceramides. This low amount of Phytoceramides may not give you the desired anti-aging results. It's also good to note that we did not find any customer reviews and it does not seem like a popular product.  Finally, if you do order the product and are for some reason unsatisfied, they do not have any return or refund policy.
Bringing you top reviews and product analysis - Consumer Advisors.