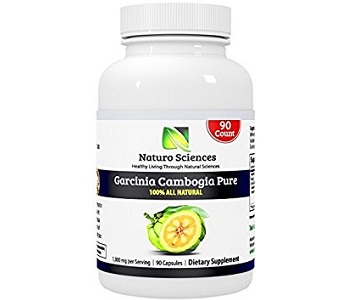 User Ratings (

0

Votes)

0
Today we review Garcinia Cambogia. Garcinia Cambogia is also known as tamarind fruit found in Africa, Southeast Asia and also in India. This product claims to suppress appetite and help people to lose weight faster and more efficiently. The busy pace of the average person's day rarely gives one the chance to invest in proper nutrition. This product helps to fill in the gaps and makes sure that you don't frequently overindulge. The hydroxycitric acid in this product inhibits enzymes in our bodies that are responsible for converting sugar into fat, thereby helping to control your weight loss. If this product interests you, read the rest of our review below.
Ingredients
Garcinia Cambogia
Gelatin
Magnesium Stearate
Potassium is one of those essential minerals that supports your overall health and it also helps with glucose transfer, stress, fatigue and blood pressure. Garcinia Cambogia helps to prevent your body from storing fat and also helps to suppress your appetite. It can also increase your metabolism and give your energy levels a boost. Unfortunately, we could not find any information stating if this product is vegan or vegetarian-friendly.
Dosage
It is suggested that adults take one capsule 30 minutes before every meal for weight maintenance. To achieve the best results it is recommended that you take two capsules 30 minutes before each meal. Do not exceed 6 capsules a day.
Possible Side Effects
Minor side effects can take place if you ingest too much Garcinia Cambogia. These side effects include nausea, diarrhea and stomach cramps. It is advised to speak to your doctor before taking this supplement, especially if you are pregnant, nursing or taking prescription medication for a serious health issue.
Price
This product is sold online from the manufacturer's website but unfortunately, the product is temporarily sold out for the time being. You can also buy this product from Amazon for $13.15 for one bottle containing 90 capsules. Unfortunately, Amazon also seems to be out of stock at the moment. If you can find this product anywhere else that has stock, we would suggest you act fast as this product doesn't seem to be shipped to suppliers that often.
Guarantee & Feedback
If you buy this product directly from the manufacturer then you will also have a 30-day guarantee that comes with it. You can return the product within that time if you are not happy with it although you might only receive a partial refund if your product is not in the original packaging or if the product is not in its original condition. Feedback regarding this product has not been overwhelmingly positive either. A lot of the customers on Amazon have complained that this product did not help them to lose weight at all.
Our Conclusive Review About Naturo Sciences Garcinia Cambogia
We like that this product is relatively affordable if compared to similar products on the market. We also like that there is a high dosage of Garcinia Cambogia in this product, making losing weight faster and more efficient. However, we are very disappointed that most of the online retailers selling this product are out of stock. If buying this product every month is going to be a hassle, it may stunt the customers' weight loss process. We also are not very impressed with the 30-day guarantee on offer with this product, seeing as you cannot benefit from it if you have already opened the product.
Bringing you top reviews and product analysis - Consumer Advisors.