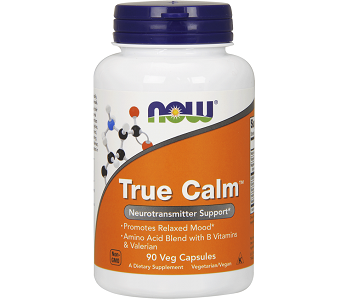 User Ratings (

0

Votes)

0
Now True Calm is an all-natural supplement designed to reduce the onset and symptoms of anxiety. Anxiety develops as a result of frequent and ongoing stressful situations which result in a change in brain chemistry. Some individuals are predisposed to anxiety due to their genetics. This change in brain chemistry causes excessive activity of certain parts of the brain responsible for stress responses. The ingredients in Now True Calm are included to correct the brain chemistry and thus reduce the onset of the symptoms of anxiety.
Ingredients
Brain chemistry is dependent on substances known as neurotransmitters. One of these important neurotransmitters is gamma-aminobutyric acid (GABA). GABA is known as an inhibitory neurotransmitter because it slows brain waves. It is quite important in initiating sleep. This supplement contains GABA.
It also contains substances which enhance the effects of GABA. For example, niacin increases the association of GABA with the relevant brain cells. The vitamin B6 and valerian root in this product causes increased release of GABA in the brain.
Another important neurotransmitter is glycine. Glycine reduces brain activity in the hippocampus. The hippocampus regulates emotions. Taurine helps to activate this action.
Magnesium, also present in this product, inhibits a molecule called the N-methyl-D-aspartate (NMDA) glutamate receptor. This molecule is classically overactive in anxiety disorders and this causes chaotic activity in brain cells.
Inositol is also present in this supplement but there is insufficient scientific evidence to conclude that it has any effect on anxiety.
Dosage
One to three capsules can be taken daily. The supplement works best when taken just before meals.
Possible Side Effects
This supplement is not safe for children. Pregnant and breastfeeding mothers should consult a doctor before using this supplement. There have not been any studies to rule out interactions between this supplement and chronic medications. Individuals on chronic medications should also therefore seek health advice before using this supplement.
This supplement may reduce the ability to drive or operate heavy machinery.
Price
Each bottle of Now True Calm contains 90 capsules. One bottle is available for purchase online for $15.99. This price excludes shipping and taxes. This manufacturer does not offer a discount for buying multiple supplies of this product at once.
Guarantee & Feedback
The manufacturer offers a 120 day money back guarantee on products for which there are more than half the capsules remaining. A 15% service fee may then be charged. For unopened products returned within 60 days, no service fee is charged.
The manufacturer does not provide a platform for customers to place their feedback reviews.
Our Conclusive Review About Now True Calm
The ingredients present in this product are well considered and the price is quite reasonable. But the dosage instructions are ambiguous and the guarantee is very complicated and strict. The effectiveness of Now True Calm cannot be independently verified as there are no customer feedback reviews.
For all intents and purposes, this product is a decent supplement for the management of anxiety, but there are definitely other manufacturers which offer much better customer support than this one.
Bringing you top reviews and product analysis - Consumer Advisors.