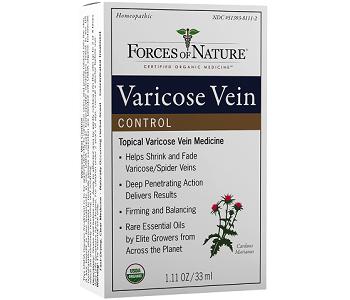 User Ratings (

0

Votes)

0
Today we review Varicose Vein Control. Varicose veins can sneak up on even the most active and healthiest of individuals. Varicose veins also don't discriminate against age and are especially prone to develop in pregnant women. In fact, varicose veins affect 15-20% of all adults and that percentage grows significantly when we look at people over 50. Varicose Vein Control is made from natural ingredients and it claims to shrink or fade the appearance of varicose veins. This product also claims to help heal your skin and it provides added moisture and nourishment. If this product interests you, read our review below.
Ingredients
The active ingredients in this product are Horse Chestnut, Milk Thistle and Witch Hazel. The inactive ingredients include Rose Geranium Oil, Cypress Oil, Niaouli Oil and Sesame Oil. Horse Chestnut actively reduces the appearance of spider veins whilst Milk Thistle helps to combat vascular deficiency. Witch Hazel is known to aid venous congestion thereby reducing swelling in legs.  Rose Geranium Oil and Cypress Oil act as a natural astringent and help with the relaxation of muscles. Niaouli and Sesame Oil promote the health of your skin by penetrating deep into the tissue.
Dosage
It is recommended that you rub this product into the affected areas 3 to 4 times per day until you are satisfied with the results. You should consult a doctor before you apply this product to children under 2 years of age. Continue to use this product for up to a week after your symptoms have cleared.
Possible Side Effects
This product is intended for external use only. Avoid any contact with your eyes and rinse out your eyes immediately if contact occurs. Do not apply this product to damaged skin or blistered areas. This product contains Tea Tree oil which may be irritating to sensitive skin.
Price
You can buy this product directly from the manufacturer's website. They sell it for $24.95 per bottle. Each bottle contains 11 0z of product. If you order two bottles of the product then you will qualify for free shipping. Your parcel will take about 4-7 business days to be delivered.
Guarantee & Feedback
The manufacturer of this product offers a 1-year money back guarantee if you are not satisfied with their product. You can return the used product with the original receipt to receive your refund. If you lost your receipt then you will only be able to qualify for an exchange. Reviews regarding this product on Amazon were mixed. Some reviewers were happy with the product but quite a few of them stated that this product did not offer the results that they were looking for.
Our Conclusive Review About Forces of Nature Varicose Vein Control
We like that this product has a very good guarantee that offers you peace of mind when spending hard earned money. We also like the ingredients used in this product. Most of them are proven to aid the appearance of varicose veins. However, we feel this product is not competitive price wise when compared to similar products on the market. We also don't like that some of the reviewers did not notice any results after using this product.
Bringing you top reviews and product analysis - Consumer Advisors.