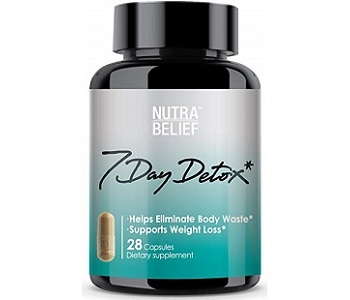 Quality of Ingredient

7.5

User Ratings (

0

Votes)

0
This review is for a product called Nutra Belief 7 Day Detox. This product provides support with uncomfortable symptoms linked with an overload of waste and toxins that have accumulated in the body. These symptoms are often a result of your body not being able to expel these toxins. The manufacturers of this product claim that the use of this dietary supplement will help to suppress your appetite and improve the health of your digestive system. This supplement facilitates your body's ability to rid itself of wastes that make you feel ill.
Ingredients
According to the supplement fact sheet on this product, it contains a variety of ingredients that help to cleanse the body. These ingredients include psyllium, flaxseed, oat bran powder and Senna leaf powder. Sadly, there are also a staggering amount of additional ingredients included in this formula. There are too many additional ingredients to list here. However, the majority of these ingredients act as additives, preservatives, fillers, and binders. This is rather unfortunate, the majority of products that are similar to this one do not even contain a third of the amount of added ingredients included in this formula.
Dosage
The recommended dosage for this dietary supplement is two capsules daily. Unfortunately, the manufacturer of this product does not include any further instructions. This is rather concerning as improper use of a supplement can lead to significant damage to your digestive system. Additionally, the contents of your stomach can lead to poor absorption of the active ingredients.
Price
Unfortunately, you cannot buy this product directly from the manufacturer. It is available on a variety of other online stores. Depending on the third party seller, you choose you can expect to pay around $12.99 for a bottle of this supplement. Sadly, there are no discounts or special offers available for this product.
Guarantee & Feedback
Sadly, we could not find any information on guarantees for this product. This indicates that the manufacturer is not entirely confident with their product. A guarantee assures you that the company believes in the product they deliver to their consumers. The manufacturer provided quite a few reviews on their website but unfortunately, the majority of these reviews were negative. It seems that a large percentage of the people who have purchased this product do not notice any appetite suppressant effects after having taken this supplement.
Our Conclusive Review About Nutra Belief  7 Day Detox
In this review of Nutra Belief  7 Day Detox, we found that it was a rather good product that could potentially help your body expel stored toxins and suppress your appetite. This product is available for a very good price and the formula contains an excellent list of active ingredients. Unfortunately, we believe that this product contains an excessive amount of additives, preservatives, fillers, and binders when compared to other similar products. We were also very concerned about how many negative consumer reviews this product has. We believe there are similar products available that offer you better value and customer service.
Bringing you top reviews and product analysis - Consumer Advisors.