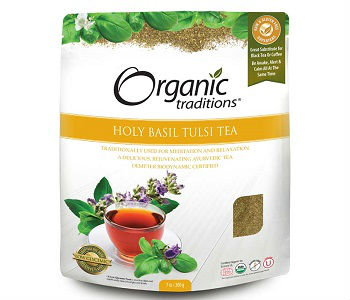 User Ratings (

0

Votes)

0
Ayurvedic healers have known about the medicinal benefits of Holy Basil or Tulsi leaf extracts for thousands of years. In Hindu culture, the plant is traditionally known as 'the incomparable one' and is considered sacred because of its healing properties.
New medical research has also shown that a regular dose of Holy Basil can be very effective at controlling stress levels.
Organic Traditions Holy Basil Tulsi Tea is sold as an anti-stress herbal drink that promotes relaxation and rejuvenation. It also contains lots of antioxidants and can improve one's stamina and immune system.
Let's see how this herbal tea compares to Holy Basil supplements that promise similar results.
Ingredients
Each bag of Organic Traditions Holy Basil Tulsi Tea comes with 7 ounces or 200 grams of Holy Basil leaf. This is unlike most Holy Basil supplements, which come in capsules that contain just the leaf extract. You have to extract the beneficial active ingredients yourself by infusing the tea leaves in boiling water, making it difficult to tell how effective each cup of tea can theoretically be. If you need a stronger dose, just add a few more teaspoons.
Dosage
To prepare a cup of Organic Traditions Holy Basil Tulsi Tea, boil 2 to 3 teaspoons of herbal tea in 8 to 12 ounces of water. You can also add lemon or ginger for more flavor. The tea can also be used in iced drinks and smoothies. It can even be used to nourish the hair and scalp, and as a mild facial wash.
Side Effects
Holy Basil and Tulsi Tea do not have any adversed side effects. Even in supplement form, Holy Basil is considered extremely safe.
Price
A bag of Organic Traditions Holy Basil Tulsi Tea which weighs 7 ounces costs roughly $10. It is similar in price to many Holy Basil supplements which typically contain 60 capsules in a bottle and will last for one month.
Guarantee
Organic Traditions Holy Basil Tulsi Tea is sold as an all-natural relaxing tea. It does not come with a money back guarantee like some Holy Basil supplements.
Conclusion Of Our Organic Traditions Holy Basil Tulsi Tea Review
Organic Traditions Holy Basil Tulsi Tea is a great introduction to the wonderful healing properties of the Holy Basil plant. But for times when you lack the time to prepare and fully enjoy a cup of tea, herbal supplements are definitely a better option. The dose of key active ingredients each veggie capsule contains will be more consistent and predictable every time you take one.
Bringing you top reviews and product analysis - Consumer Advisors.