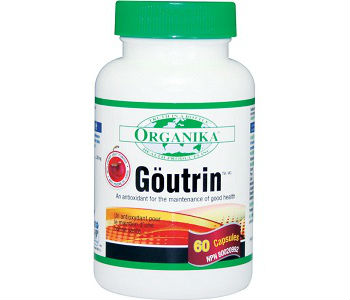 User Ratings (

0

Votes)

0
When looking for the perfect product for gout treatment, one of the choices that can be taken into account is Organika Goutrin. As it is claimed by the manufacturer, it works by keeping the level of uric acids low, which is essential in the prevention of attacks of gout. It also neutralizes the dangers associated with uric acid in the body, apart from gout. Aside from easing inflammation, it also reduces discomfort and pain, which are typical among gout sufferers. For most people, this supplement is a popular choice because it is natural. It may trigger allergic reactions, which make sit important to first take a look at its list of ingredients.
Ingredients
Vitamin C: Several studies in the past have proven that people with regular intake of Vitamin C are lesser prone to attacks of gout. This supplement has Vitamin C in the form of calcium ascorbate, which is basically responsible for managing a healthy level of uric acid.
Calcium: Calcium is an essential in the maintenance of bone strength, and hence, keeping the joints as healthy as possible. It is also critical in the neutralization of uric acid, which will allow the impurities to be excreted in the form of urine.
Iron: Previous researches have supported the claims that iron deficiency can lead into the onset of gout.
Cherry Powder: Abundant in anthocyanin and flavonoids, cherries have a long history of being used in gout treatment. It allows the reduction of the uric acid produced by the body to get rid of gout.
Thyme Leaf Powder: Considered as a diuretic, this ingredient will help the body to increase its production of urine to get rid of the impurities that can possible lead into gout.
Celery Seed Powder: Aside from being a diuretic, this ingredient is also filled with anti-inflammatory compounds essential to maintain healthy joints.
Peppermint Leaf Powder: This is also an excellent diuretic.
Other Ingredients: Aside from those that have been mentioned above, this supplement also contains magnesium stearate, microcrystalline cellulose, and pullulan.
Dosage
As it has been recommended by the manufacturer, two capsules should be taken daily, with the first one after breakfast and another after dinner.
Possible Side Effects
As this supplement contains extracts of soy, it can possibly lead into allergic reactions. It can also result into iron toxicity when taken by children beyond the recommended dosage.
Price
A bottle of this supplement is available in most online stores for $32.34. For the best deal, Vitacost is offering the product for only $22.91.
Guarantee
The manufacturer does not allow product returns and refund. The supplement, however, is manufactured following Canada's GMP.
Conclusion Of Our Organika Goutrin Review
This product raises doubts amongst many people because of the lack of satisfaction guarantee. There will be no assurance on your part with regards to its effectiveness. It also has certain ingredients that can lead into allergies.
Bringing you top reviews and product analysis - Consumer Advisors.