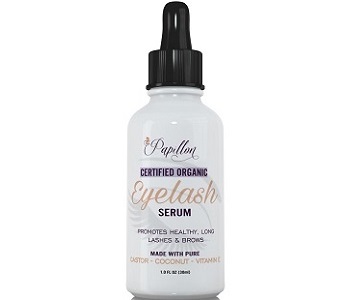 Quality of Ingredient

7.5

User Ratings (

0

Votes)

0
The product that will be examined in this review is Organic Eyelash Growth Serum manufactured by the company Papillon. This manufacturer of this beauty claims that their product nourishes the eyebrows and eyelashes, encouraging the growth of thick, long, and healthy lashes. The company claims that their product not only stimulates the growth of the eyelashes but treats brittle lashes and hair. Keep reading this review to discover more about this eyelash growth serum.
Ingredients
The key ingredients in this product's formula are as follows:
Organic castor oil
Organic coconut oil
Vitamin E
These key ingredients appear a good mix. They will not only enhance the condition and thickness of the eyelashes but also stimulate the growth of the eyelashes. For instance, the ingredient organic coconut oil penetrates the eyelash follicles it could offer the benefit of stimulating the hair growth. This substance can also guard against problems such as dandruff or even other fungal infections. More so coconut oil could also make the eyelashes appear shiny and soft. Nevertheless, the concentration of the active ingredients is not divulged. This is a concern. Quality ingredients use at least 10% concentration for the formula to be effective. Also, this product does not contain at least five clinically proven ingredients, such as marsula oil or pea sprouts. Results will not be as effective as products containing such a mix of ingredients. This eyelash and eyebrow product are cruelty-free.
How To Use
User instructions are clear and easy to follow. Two (2) to three (3) drops of serum should be massaged into eyelashes and eyebrows with the fingertips. A brush may be used to apply the serum to the hair. For optimal results, the product should be used in the evenings before bedtime.
Price
A one-ounce bottle of serum is available online from the manufacturer's own website at $35.00, excluding shipping fee. No discounts nor package deals are offered by the maker of this product which would reward loyal patrons and save money in the long run.
Guarantee & Feedback
The manufacturer of this eyelash product offers a 30-day satisfaction guarantee on this product. The consumer may return the product for any reason, as long as within 30 days of purchase. Dissatisfied customers should email the company before they return the product.
Our Conclusive Review About Papillon Organic Eyelash Growth Serum
First – At first glance, the product Organic Eyelash Growth Serum seems worthwhile. It comes with a full 30-day money-back guarantee. User instructions on obtaining optimal results are clear and concise. However, negative aspects include no discounts nor package deals offered on the purchase of this product. The product lacks any patented ingredients, or those clinically proven to produce an effective product. Although there is a 30-day money-back guarantee on this product, the manufacturers declare that it takes 30 to 60 days to see results. A period of 30 days in which to return the product is therefore unreasonable. To conclude there are many other and similar products on the market currently which is compared to have better quality ingredients, better-formulated formulas, firmer guarantees that are consumer focused, and attractive package deals with discounts. It is significant that customers read evaluations to determine the unseen facts that manufacturers will hide from them so that they can make well-versed choices.
Bringing you top reviews and product analysis - Consumer Advisors.