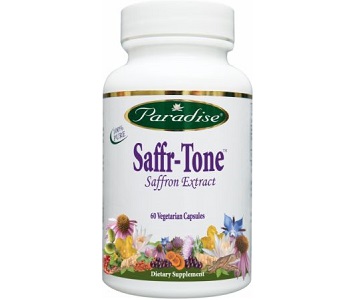 User Ratings (

0

Votes)

0
Saffron is a spice that is often used in cooking but after it was discovered for its weight loss and calming properties, it is also commonly taken as a supplement. This Paradise Saffr-Tone review is going to take a closer look at the facts and details of this Saffron supplement to learn more about how this product works and to see if it's worth giving a try. the manufacturer claims that their supplement is of the highest quality that nature has to offer. It can support cheerfulness, positive mood, harmony and balance which can effect the food choices you make and therefore can help you maintain a healthy body weight.
Ingredients
The only active ingredient in this supplement is Saffron stigma extract. Every serving contains 15 mg. The other ingredients include the vegetarian capsule and optiMSM (methylsulfonylethane). It is widely believed that the same elements in Saffron that give it its bright colors, also have the ability to help you lose weight. It is believed to aid in weight loss through its antidepressant and anti-anxiety properties which can help prevent snacking that is caused by stress. These same elects may also help reduce your appetite.
Dosage
You are instructed to take one capsule twice daily or to follow your doctor's instructions. Do not exceed the recommended dose. Talk to your doctor before taking this supplement if you are taking any medications, if you have a bleeding disorder or have a kidney disease. This supplement is not meant for pregnancy.
Possible Side Effects
There are several safety concerns when it comes to taking Saffron as a supplement. When taken in the amount of five grams or more, Saffron can be toxic. If you take more than twenty grams, it can be fatal. For this reason it is imperative to follow the dosage recommendation and not to exceed the recommendation. Although the manufacturer does not list any possible side effects we found common side effects associated with Saffron to include dizziness, nausea, vomiting, diarrhea, numbness, yellowing of the skin or eyes or spontaneous bleeding.
Price
You can purchase Saffr-Tone exclusively from third-party retailers. We found one 60-capsule bottle online for $22.21. There are no discounted bulk purchasing packages offered but that can vary according to the retailer you purchase from.
Guarantee & Feedback
We were surprised not to find any mention of a manufacturer's guarantee. This makes purchasing Saffr-Tone risky because it means that if you purchase this product and are unsatisfied in any way, you cannot get your money back from the manufacturer.
We were unable to find any consumer feedback anywhere online. This suggests that this is not a popular or well known Saffron supplement.
Our Conclusive Review About Paradise Saffr-Tone
Paradise Saffr-Tone appears to be a promising Saffron supplement. It contains a decent amount of Saffron and the manufacturer's website is colofrul and informative. However, while this supplement does contain a decent amount of Saffron, we found that the amount is only a fraction of what most other Saffron supplements contain. This leads us to question whether or not this supplement is potent enough for it to be effective. Furthermore, the lack of a manufacturer's guarantee is reason for concern. It indicates that the manufacturer is lacking confidence in their product's ability and it puts the consumer at risk. With so many different Saffron supplement options available on the market, you are better off choosing one that is backed by a strong manufacturer's guarantee for consumer protection and one that has effective ingredients.
Bringing you top reviews and product analysis - Consumer Advisors.