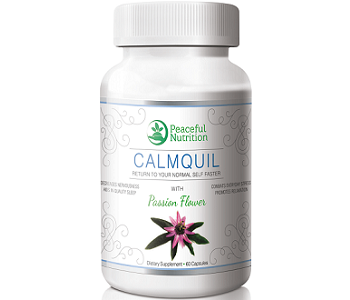 User Ratings (

0

Votes)

0
The following is an in-depth review of a product called Peaceful Nutrition Calmquil, a product that is claimed by the manufacturer to provide fast-acting relief of anxiety and stress. This review will cover all aspects of this supplement, from ingredients to customer support, to help you make a wise purchase choice.
Ingredients
Vitamin C
Thiamin
Niacin
Vitamin B
Pantothenic Acid
Magnesium
Inositol
Ashwagandha
L-theanine
GABA
Passion Flower
5-HTP
Vitamin C is an antioxidant that is said to relieve the oxidative stress of anxiety, while niacin and magnesium are known to support the nervous system and thus – reduce anxiety. Ashwagandha is an ayurvedic root that has been known to prevent stress, anxiety, and depression; while passion flower has also been used for many years to relieve anxiety. While these ingredients may be beneficial, it is unfortunate that this product does not have a dual action formula. This is used in competing brands to address the body's different needs during day and night, proving to be more practical and effective method of supplementation. This product was produced in a GMP certified facility that works with allergens such as milk, soy, eggs, nuts, and wheat. These may pose an allergenic risk.
Dosage
The proprietary blend consists of 740 mg of ingredients, yet does not disclose the concentration per ingredient so we are unable to accurately disclose if this product is effectively dosed or not. The manufacturer suggests taking 2 capsules 1 to 3 times daily, taking caution not to exceed 6 capsules within a 24 hour period. It is unclear if these should be taken with meals or on an empty stomach.
Possible Side Effects
This product is not intended for pregnant or breastfeeding mothers, young children, those with heart disease, or those preparing for surgery. It is advised to seek out council with your medical practitioner before use; especially when taking other sedatives, antidepressants, or any other medications. Side effects may include flushing, headaches, dizziness, and heart fluttering – to which you should decrease the dosage or discontinue use entirely.
Price
This product can be bought directly from the manufacturer's website. A single bottle of 60 capsules (lasting you between 10 to 30 days) will cost you $45,99. There is a discount available, where a single bottle will cost $35,99; however, customers will need to sign up for a monthly subscription to receive the reduced price. There is also a package offer available, where 3 bottles will cost $99,99.
Guarantee & Feedback
The manufacturer offers 1 refund per purchaser for a single unit. This policy is very vague as it is unclear if this policy applies to opened or used products, the length of time this policy applies for, and if this policy is applicable to package offers where the greatest savings apply. This is a concern. Furthermore, the manufacturer reserves the right to refuse any refunds. There have been few customer reviews, of which there are many complaints of the product being ineffective and a waste of money.
Our Conclusive Review About Peaceful Nutrition Calmquil
Peaceful Nutrition Calmquil contains a formula of ingredients that may be effective in reducing stress and anxiety, however, the lack of a dual formula is unfortunate. While the product may have a host of potential allergens, it is manufactured in a GMP certified facility. While there is package offers available, the vague and somewhat concerning manufacturer's guarantee may prevent customers from receiving a refund. This, combined with worrisome side effects and negative customers reviews are a few reasons why we do not recommend this product.
Bringing you top reviews and product analysis - Consumer Advisors.