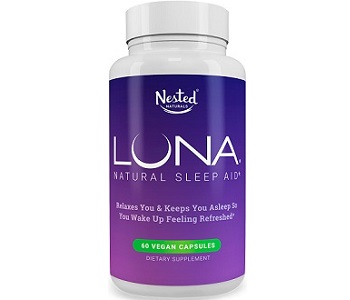 Quality of Ingredient

7.5

User Ratings (

0

Votes)

0
The following review is for a product called Nested Naturals Luna Natural Sleep Aid. This product has been formulated to aid the body and mind into a quiet relaxed state, which might lead to a long peaceful sleep throughout the night. This supplement might aid the user to feel rejuvenated and energetic the next morning. The manufacturer's aim is to empower the user to be able to reset the body's natural sleep cycle.
Ingredients
Main Ingredients:
Magnesium
L-Theanine
Valerian Root
Chamomile Root Extract
Passion Flower
Lemon Balm
GABA
Melatonin
Magnesium is very important for the normal functioning of cells, bones, heart, and muscles.
L-Theanine and GABA both help the brain to ease anxiety and create a state of relaxation, making it easier to fall asleep and extend the duration of deep sleep. Chamomile, Lemon Balm, Passion Flower, and Hops are used for their calming and soothing effects. Valerian Root is used to calm both body and mind. Melatonin is used to regulate the night sleep pattern and the wake-up pattern in the morning. The above formula consists of a proprietary blend, which comes as a risk. The manufacturer might use an amount that is far over the recommended value which may lead to an overdose. The ingredients could be much more effective if Taurine and Magnolia (proven clinically) were included.
Other Ingredients:
Vegetable Cellulose (capsule)
Vegetable Magnesium Stearate
Vegetable Magnesium Stearate is a lubricant and poses as a contaminant, which may affect the outcome this supplement has on the consumer.
Dosage
It is recommended to take one or two capsules just before bedtime with a glass of water. Once this supplement has been taken the consumer must not engage in any activity such as driving or operating any machinery. The consumer must remain in a calm, relaxing mode awaiting the onset of sleep.
Possible Side Effects
It has been noted that in rare cases even the mildest herbs, like Chamomile and Lemon Balm, can cause allergic reactions.
Price
The price of a bottle containing 60 capsules is $21.95 from the manufacturer's website. The price of the same product from third-party retailers will be less discount. Each price will differ depending on the discount given by the third-party retailer.
Guarantee & Feedback
A lifetime guarantee is given by the manufacturer, if the consumer is dissatisfied with the product at any point in time, it may be returned for a 100% money back guarantee – no questions asked.
The majority of the consumer's reviews are rated four to five stars. There is a very small percentage of consumers that are not pleased with this product.
Our Conclusive Review About Nested Naturals Luna Natural Sleep Aid
We have reviewed Nested Naturals Luna Natural Sleep Aid and our finding is that the manufacturer donates to a non-profit organization which provides vitamins to mothers and children suffering from malnutrition. The consumer reviews are much more positive than negative. However, the unpleasant fact lies in the supplement as there are clinically proven key ingredients omitted from the ingredients as well as the proprietary blend formulation which may lead to an overdose or allergic reactions in some cases. The consumer should consider these facts when taking this supplement for their own well-being.
Bringing you top reviews and product analysis - Consumer Advisors.