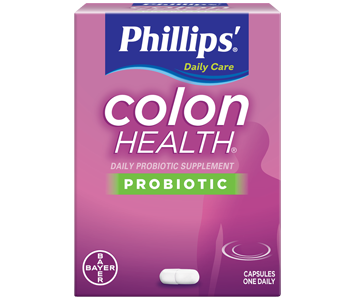 User Ratings (

0

Votes)

0
It is estimated that 10 trillion bacteria live in your body. Some live on your skin, inside your mouth and nose but the majority is believed to lay in your gut. Although bacteria are commonly associated with being bad for you, there is a type of good bacteria that offers many health benefits. The good bacteria in your gut can help neutralize toxins, inhibit yeast and bad bacteria in your gut and boost your immune system because the majority of your immune system lies in your gut. The gut flora helps neutralize some toxic by-products of digestion and helps encourage the digestion process and helps the gut absorb nutrients. This review is going to examine Phillip's Colon Health Probiotic. This product contains three types of probiotics that they claim helps defend against occasional constipation, diarrhea, gas and bloating. The manufacturer claims that if you take them daily, it can help replenish the good bacteria in your colon, support digestive health and your immune system.
Ingredients
Proprietary Blend (Lactobacillus gasseri, KS-13, Bifidobacterium bifidum g0-1, Bifidobacterium longum MM-2) – 1.5 billion cells
Inactive Ingredients:  Potato Starch, Gelatin, Silicon Dioxide.
This proprietary blend contains three types of good bacteria that are believed to be similar to the beneficial bacteria that live naturally in the digestive tract. The capsules contain a specially formulated blend of two types of probiotics plus Vitamin-B that are believed to offer support for a healthy colon.
Dosage
Phillip's recommends taking 1 Colon Health Probiotic capsule once daily with a meal.
If you are under medical supervision, pregnant or nursing you should consult with your doctor before taking this product.
Possible Side Effects
Phillip's does not list any side effects on their website. We found that stomach bloating and discomfort are common side effects that are associated with taking this product.
Price
You can only buy this product from different third-party retailers. We found one 60 capsule bottle of Phillip's Colon Health Probiotic for $17.96. Pricing will vary according to the retailer.
Guarantee & Feedback
We could not find a manufacturer's guarantee for this product. The price and guarantee will vary depending on the retailer that you buy from. We found many negative reviews on this product. Consumers reported that they experienced no effect after taking these capsules continuously and others reported that they experienced severe diarrhea, gas and bloating.
Our Conclusive Review About Phillip's Colon Health Probiotic
This product appears to be decent. It contains three types of bacteria that have been associated with having benefits for your gut and overall health and they come in easy to swallow capsules. However, the reviews about these probiotics are mostly negative. Consumers reported that they experienced severe adverse side effects from these capsules and needed to stop taking them immediately. Others claimed that they saw no difference in their system but that the capsules had caused their skin to break out and were disappointed that they were not able to receive a refund from the manufacturer. Taking into consideration the negative consumer reviews and that the manufacturer does not offer a money-back guarantee, this product is too risky to invest in.
Bringing you top reviews and product analysis - Consumer Advisors.