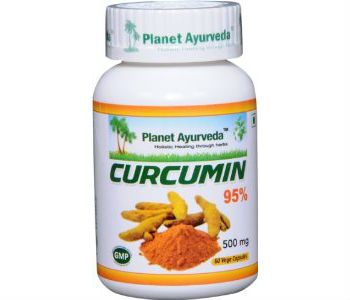 User Ratings (

0

Votes)

0
The simple turmeric plant is often associated with cooking in the form of a herb or spice, which is added to curries and other dishes. Aside from the culinary uses, turmeric has also been used in ancient traditional medicines around the world as a healing aid. Some of the benefits of taking turmeric regularly include; reduced inflammation, improved skin health, better cardiovascular health, lowered levels of toxins, improved organ health and increased immunity. There are conclusive studies that back up the health benefits of turmeric and thus the plant is being marketed today as a modern day health supplement. With an abundance of products available to choose from it is necessary to review the products information to weed out the bad from the good.
Planet Ayurveda Curcumin is one product worth discussing as a turmeric supplement. The manufacturers claim that it will aid in the treatment of inflammation by decreasing enzyme production that cause inflammation. It contains high levels of iron and 100% pure curcumin extracts, which reduces the risk of side effects and/or allergic reactions. Below are further details available about Planet Ayurveda Curcumin such as the ingredients, recommended dosage, price, product guarantee and a conclusion regarding the value for money.
Ingredients
There are no ingredients listed on the manufacturers website for this product. They do say that the product is free of fillers and vegetarian friendly.
Dosage
The manufacturer recommends that customers take 2 capsules daily after meals. It is recommended that persons seek professional advice form a health care practitioner for appropriate individual dosage requirements.
Price
One bottle of Planet Ayurveda Curcumin costs $ 42.95 and contains 60 capsules. The following discounts are available for greater quantities;
3 bottles for $ 61.95
5 bottles for $ 97.95
10 bottles for $ 183.95
Guarantee
There is no product satisfaction guarantee offered by the company, therefore it is at the risk of the purchaser to buy this product. No monies will be refunded by the manufacturers if customers are unhappy the product. The manufacturers recommend that if customers are unhappy with their purchase, they should write them a letter and the company will provide information on how to maximize the benefits of the product.
Conclusion Of Our Planet Ayurveda Curcumin Review
Overall, Planet Ayurveda Curcumin is a slightly risky product to purchase if customers have never tried it before. The lack of a product guarantee and no information regarding the ingredients used are significant downfalls on behalf of the manufacturers. It is highly unlikely that the company could provide any sort of safety or quality guarantee of their product if they do not include an ingredients list.
Bringing you top reviews and product analysis - Consumer Advisors.