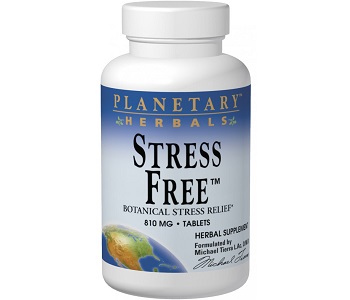 User Ratings (

0

Votes)

0
Today we will review Stress Free made by Planetary Herbals. If you are constantly stressed, your immune system has difficulty to function properly. Stress and anxiety can affect your biological processes and you can suffer from sleeplessness, poor appetite and it can have an effect on the amount of acid your stomach produces. This can often lead to an upset stomach or an ulcer. Stress Free claims to offer relief from stress and to keep you calm during difficult situations. This product provides internal support for external stressors and helps to keep you level-headed. If this product interests you, read our review below.
Ingredients
This product consists of Calcium, Magnesium and a Proprietary Blend. The ingredients in the Proprietary Blend include Jujube Seed, Skullcap Aerial Parts, Hops Strobile, Valerian Root Extract, American Ginseng Root Extract, Hawthorn Berry Extract, Ginger Root Extract, Chamomile Flower Extract, Licorice Root Extract, Black Cohosh Root Extract and Eleuthero Root Extract. A deficiency in Calcium can sometimes cause anxiety so this product has extra Calcium to prevent that from happening. Magnesium is a relaxing and calming mineral and is known for regulating the nervous system. The Proprietary Blend is a potent stress reliever, enhances the body's ability to adapt to stress and also gives your immune system a boost.
Dosage
It is recommended that you take 1 tablet three times a day in between meals. If you want to use this product but you are under the age of 18, please consult your doctor first.
Possible Side Effects
This product should not be used by pregnant or breastfeeding women. This product should also be kept out of reach of children. If you have an adverse reaction after using this product, please discontinue using it immediately. This product also contains Soy.
Price
You cannot buy this product directly from the manufacturers.  You can buy this product from iHerb for $13.99. Each bottle contains 90 tablets.  If you buy 3 bottles you will receive a 5% discount from your total price. Currently, there are no coupons or free samples available regarding this product.
Guarantee & Feedback
Unfortunately, iHerb does not mention a guarantee regarding this product, so if you want to be safe when it comes to your money we would suggest looking at other retailers. The feedback regarding this product is not so good either. Almost 20% of the reviewers gave this product a 3-star rating or lower on iHerb. Some of the people stated that the tablets were too big to swallow and that it did not relieve any stress for them at all.
Our Conclusive Review About Planetary Herbals Stress Free
We like that this product is packed with ingredients that are natural and very beneficial when it comes to your nervous system and general health. We also like that they offer variety when it comes to the number of tablets that you get per bottle. Unfortunately, we also have some reservations regarding the negative reviews that this product has on iHerb. We also feel that the lack of guarantee that some of these 3rd party retailers have are upsetting. Since the manufacturers do not sell this product themselves, finding another retailer that suits your personal needs when it comes to a guarantee and shipping expenses can be quite tiresome.
Bringing you top reviews and product analysis - Consumer Advisors.