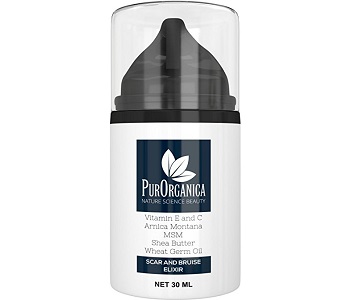 User Ratings (

0

Votes)

0
No matter what kind of life we live, each of us is prone to form at least one scar from a cut, a scrape or other kinds of injury. Scars are composed of dense, fibrotic tissue which can have a pale, unaesthetic appearance. Some scars take very long periods of time to heal (some take decades). Thankfully there are products available which can speed up this process. We examine PurOrganica Scar Cream in this review to decide if it is the best product to reduce scar tissue.
Ingredients
PurOrganica Scar Cream contains a variety of plant extracts from certain herbs and more importantly, the aloe plant. These extracts contain many antimicrobial and antioxidant compounds which remove harmful organisms and substances known as free radicals from the scar tissue. Organisms and free radicals normally slow down healing, so with them removed, healing can take place at a much quicker rate. Other important plant extracts include safflower oil, sunflower oil and  wheat germ oil, which all contain a variety of vitamins and antioxidants.
Some of the more synthetic components of the cream include stearate or stearic acid compounds. These compounds are often used in many skin products to soften the skin. This cream also contains high levels of vitamin C and vitamin E. Vitamin C plays a significant role in the synthesis of collagen – the fiber that gives skin its firmness. Vitamin E has important antioxidant properties.
This product does not appear to include any direct anti-inflammatory substances, nor compounds which help to break down scar tissue – like diketones which are available in other products.
Dosage
After washing hands to maintain sterility, PurOrganica Scar Cream should be applied to the affected area twice a day. It must not be applied to an area which still contains stitches.
Possible Side Effects
If contact of PurOrganica Scar Cream with eyes occurs, it could damage the eye so the cream must be immediately flushed out with large amounts of water. It is possible that some ingredients may elicit an allergic reaction in some customers, so if redness and itching occurs, cease use of the product immediately.
Price
30 ml (about 0.6 oz) of PurOrganica Scar Cream can be bought online for $10.99.
Guarantee & Feedback
PurOrganica offers a full money-back guarantee, but they do not specify how long this guarantee is valid for, nor what condition the product must be returned in.
There are a few customer reviews available about PurOrganica Scar Cream. However, less than 60 percent of customers appear to be completely satisfied with the product.
Our Conclusive Review About PurOrganica Scar Cream
PurOrganica Scar Cream contains effective, research-based ingredients, which accomplish a range of processes to remove scars. This product is also offered at a very reasonable price.
We do feel though that this cream should include a few more key ingredients to accomplish better healing. We would also suggest a product that should be applied three times a day, as this gives a more consistent dose of the compounds which help healing. It is also concerning that the guarantee is ambiguous in terms of its length and conditions.
Bringing you top reviews and product analysis - Consumer Advisors.