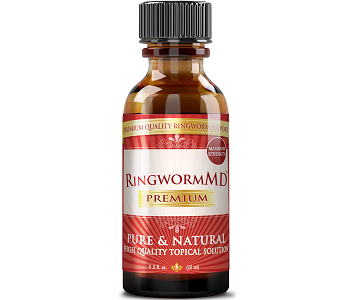 User Ratings (

0

Votes)

0
The following review is for a product called Premium Certified RingwormMD. The manufacturer aims to provide the best solution to ringworm. What makes this product stand out above the rest is that it contains the best fungal fighting agent and that it targets the root of the cause to prevent recurrence, and does not merely provide temporary symptom relief. Keep on reading to see what ingredients are in Premium Certified RingwormMD and to see how effective this product is.
Ingredients
The manufacturer has provided a product that provides 17 key ingredients – each tested for purity and effectiveness. Premium Certified RingwormMD also contains a very essential ingredient, which most antifungal treatments do not provide. This is 25% standardized undecylenic acid, the most effective fungal fighting ingredient. The product also contains Aloe Vera, Vitamin E, and other oils to help soothe and repair the skin that is damaged and also relieve symptoms such as itching and burning. Also, the product does not contain any additives, preservatives, binders, or fillers.
Dosage
The bottle of product comes with a brush applicator to help with an easy, mess free application. The manufacturer recommends that the user apply the product to the affected area 3 times a day. It is best to apply it once in the morning, once in the afternoon, and then once in the evening.
Price
To purchase this product, follow the clear instructions on the manufacturer's website and place an order online. We were happy to come across several bundle deals for you to choose from. In addition to this, the manufacturer has also provided a discount on each individual bottle, the higher the bundles deal. You can save upto a total of $270.
1 bottle – $48
3 bottles – $91
4 bottles – $112
6 bottles – $138
Guarantee & Feedback
The product comes with a 90-day money-back guarantee offered by the manufacturer. With this guarantee, you will be allowed to return bottles that are sealed as well as bottles that have been opened and used from. This is a great benefit for first time users – an offer not many manufacturers provide. Thus, if you are not satisfied with the product or the results, you may simply return all bottles for a full refund. This shows us that the manufacturer is confident in the product and the effectiveness thereof. It is also relevant that the product is backed by clinical studies and research.
Our Conclusive Review About Premium Certified RingwormMD
After our full review of Premium Certified RingwormMD, we have found many things that we like about this antifungal product. In addition to this, from our research, it is clear that not many other products can provide the same high-quality and well benefited product. First of all, the product is backed by a money-back guarantee. Thus, no matter the problem, if you return the product, you will be refunded. Furthermore, you can purchase the specific amount of product you want, all at a discount. Finally, the ingredients in this product are all-natural and chosen based on clinical studies. For these reasons, we gladly recommend the use of Premium Certified RingwormMD.
Bringing you top reviews and product analysis - Consumer Advisors.