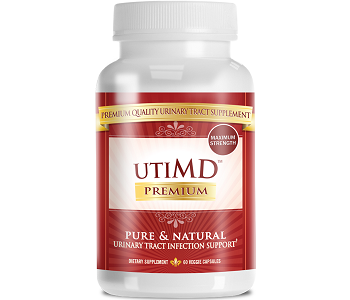 User Ratings (

0

Votes)

0
We are happy to present our review on Premium Certified UTI MD. This is seen as the best urinary tract infection (UTI) supplement as it contains 100% natural ingredients, that is vegan friendly, and targets the root of the cause. To find out what benefits are offered when purchasing Premium Certified UTI MD, read our informative review below.
Ingredients
Premium Certified UTI MD contains 5 key ingredients that have been clinically tested for purity and effectiveness. These including Cranberries, Lingonberries, D-Mannose, Berberine, and Uva Ursi. Cranberries are seen as the best protection against UTI, as well as a prevention for recurrence. The ingredients help to relieve the symptoms of UTIs and also prevent the adhesion of E.coli bacteria to the lining of the bladder and urinary tract, causing painful symptoms. It also helps to flush out unhealthy bacteria that could also cause the problem. We are also happy to state that the product does not contain preservatives, additives, binders, or fillers.
Dosage
The label on the product recommends that the user take 2 capsules per day as a dietary supplement. It should be taken with a meal. For best results, take one capsule in the morning and one capsule in the afternoon. There are 60 veggie capsules per container, thus it will last one month.
Price
You can purchase the product online from the manufacturer's official website. Unlike other manufacturers, here you can choose between numerous bundle deals depending on your need. It is also noteworthy that the manufacturer offers a discount on each individual product.
1 bottle – $48
3 bottles – $91
4 bottles – $112
6 bottles – $138
Guarantee & Feedback
The manufacturer offers a 90-day money-back guarantee on all products. If you have purchased the product and used it, and you feel it does not provide positive results or if you are not satisfied with the product, you may return it for a full refund. This means that sealed as well as opened bottles will be accepted by the manufacturer. This shows great confidence in the product and the effectiveness thereof for a manufacturer to offer such a strong return policy. In addition to this, the product is also backed by clinical studies and a lot of research.
Our Conclusive Review About Premium Certified UTI MD
Our review of Premium Certified UTI MD has left us with many positive facts about the product that you need to know. First of all, the manufacturer offers many benefits and always put the customer first. This is seen with the 90-day money-back guarantee as well as the cost effective bundles deals one can take advantage off. Customers can try the product and return it for a full refund if they are not satisfied, even on discounted products. Finally, the manufacturer has ensured the ingredients in the product have been clinically tested for purity and effectiveness so that you will be provided with the highest-quality solution. These reasons lead us to believe that Premium Certified UTI MD is the best choice to make when looking for a UTI supplement.
Bringing you top reviews and product analysis - Consumer Advisors.