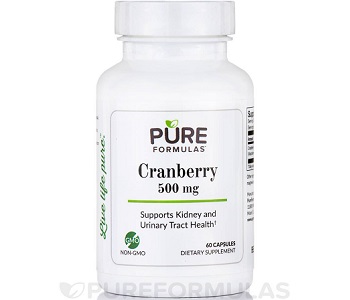 User Ratings (

0

Votes)

0
Urinary Tract Infections, or UTIs, are the second most commonly diagnosed infections in America. Some cases can be mild and will heal on their own but others can be severe and will require medical attention. Symptoms include pain and burning sensation while urinating, cloudy or bloody urine, nausea, vomiting and pelvic pain which are symptoms that can keep you from comfortably living your day to day life. Antibiotics are a common treatment for UTIs and while they are effective in eliminating an existing infection, they are limited in the way that they cannot prevent future ones from occurring. Your body can also build up a resistance to antibiotics and they can even potentially cause other health problems like yeast infections. This review is going to take a closer look at Pure Formulas Cranberry. This product is a dietary supplement that comes in the form of capsules and contains 500 mg of Cranberry per serving. It is taken as a way to prevent UTIs from occurring because it is believed that Cranberry has properties that can stop UTI causing bacteria from multiplying and forming into an infection.
Ingredients
The only active ingredient in this supplement is Cranberry. Cranberry is believed to work in the treatment of urinary tract infections by making the urine acidic and therefore unlikely to support the growth of UTI causing bacteria. It is also believed that some of the chemicals in cranberries keep bacteria from sticking to the cells that line the urinary tract where they can multiply and turn into an infection.
Dosage
Pure Formulas Cranberry recommends taking one 500 mg capsule daily or as otherwise instructed by your doctor. If you are pregnant, nursing or under medical supervision, you should consult with your doctor before taking this supplement.
This dosage is questionable because experts recommend taking between 800 – 1,600 mg of a Cranberry supplement daily in order for it to effectively reduce your chances of getting a UTI.
Possible Side Effects
Pure Formulas does not list any possible side effects on their website. We were able to find common side effects associated with consuming cranberry are the increased risk of kidney stones, low stomach acid and inflammation of the stomach lining.
Price
This Cranberry supplement is priced on the manufacturer's website for $9.60 per 60 capsule bottle. They offer a 10% discount offered for purchasing 3 or more bottles.
Guarantee & Feedback
Pure Formulas offers a 30-day money back guarantee on all unopened items. No refund is offered for opened items. We were not able to find any consumer reviews on this product.
Our Conclusive Review About Pure Formulas Cranberry
This supplement appears to be decent. It contains 500 mg per serving and comes in easy to swallow capsules. However, the manufacturer's money-back guarantee is weak. They only offer 30 days to get your money back and that is only for unopened bottles. This means that if you purchase this supplement and experience adverse side effects or are simply not satisfied, you cannot get your money back. Furthermore, there are no consumer reviews or testimonials to attest to the integrity of this supplement. This suggests to us that this supplement is not a well known or a popular option. Their dosage recommendation also appears to be questionable because they recommend a significantly lower dosage than what experts recommend to take in order to effectively prevent UTIs from occurring. Taking all of these factors into consideration, Pure Formulas Cranberry is too risky to rely on for protection from UTIs.
Bringing you top reviews and product analysis - Consumer Advisors.