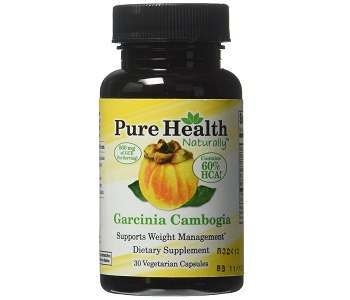 User Ratings (

0

Votes)

0
Pure Health Garcinia Cambogia is a weight loss supplement that makes use of the dietary benefits linked to the fruit Garcinia Cambogia. The extract of this fruit has shown to have metabolism-boosting properties as well as allowing the body to burn fat for additional energy. However, not all products are made the same, and so it is important to find one that has the properties to make it effective. You can learn more about this product by reading our full Pure Health Garcinia Cambogia review below.
Ingredients
Pure Health Garcinia Cambogia is an all-natural weight loss supplement that incorporates the use of Garcinia Cambogia extract. Each capsule contains about 800mg of extract that has 60% Hydroxycitric Acid (HCA). That 60% HCA is rather low compared to other Garcinia Cambogia supplements products. This product also contains calcium, potassium, and black pepper for absorption.
Dosage
The adult dosage for this weight loss supplement is for 2 capsules, three times per day. Take each dose at least 30 minutes before a meal and drink plenty of water as well. The ideal times to take each dose would be before breakfast, lunch, and dinner. This ends up being 6 capsules a day, which seems a bit extreme.
Possible Side Effects
Pure Health Garcinia Cambogia seems to be a safe Garcinia Cambogia supplement. This product contains quite a low dose of HCA, so it makes it pretty safe, although it may not be as effective. Some possible side effects of taking Garcinia Cambogia supplements include nausea, headache, and stomachache. Pregnant and nursing mothers should also refrain from taking this supplement without talking to their healthcare provider first.
Price
Pure Health Garcinia Cambogia is available in a bottle containing 30 capsules. At 6 capsules a day, one bottle will not last you very long. This product is available online from Walmart for $9.98. The supplement does not come with monthly supply package options for those looking to buy in bulk for continuous maintenance, which means you will need to order a large number of bottles when you buy as one bottle won't go very far, which may also end up being expensive.
Guarantee & Feedback
Walmart offers a refund policy of 90 days. The product needs to be returned in its original packaging to be able to receive a refund. It is unclear if you will receive a refund for open bottles. Pure Health Naturally only offers a 30-day money back guarantee for their products, and only on closed products.
Our Conclusive Review About Pure Health Garcinia Cambogia
Pure Health Garcinia Cambogia seems to offer a safe supplement for weight loss, however, whether this product is actually effective is another matter. The potency is very low and you need to take a large number of capsules each day. The product reviews we found for this supplement on Walmart were also very mixed. On average, this product received a 3.5 out of 5 stars. We think there are other products on the market that proven more beneficial to help with weight loss by offering a higher concentration of HCA.
Bringing you top reviews and product analysis - Consumer Advisors.