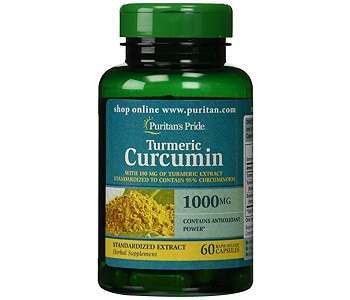 User Ratings (

0

Votes)

0
Today we review Turmeric Curcumin 1000 mg with Bioperine by Puritan's Pride. Turmeric is native to China and a popular spice in many cuisines. Its uses extend beyond the culinary, into the realm of wellness, making it a popular supplement. Puritan's Pride suggests that Turmeric Curcumin 1000g with Bioperine may help fight cell damage, strengthen the immune system and improve brain health.
Ingredients
Primary Ingredients
Turmeric 900mg
Turmeric Extract 95% 100mg
Secondary Ingredients
Gelatin (capsule)
Vegetable Stearic Acid (emulsifier and capsule lubricant)
This is a fairly common ingredient list for a Tumeric capsule.  There appear to be no fillers, colorants or flavorings. However, there is no indication that the manufacturer is certified by GMP. Nor does there appear to be third-party testing for purity and safety.
Dosage
Puritan's Pride recommends taking one capsule one to two times a day, with food. They also state that the capsule may be opened and the contents consumed as a tea. This may be a response to the many complaints about the large capsule size.
We find the label to be somewhat misleading. While there is indeed 1000mg of turmeric product in the supplement, the majority is plain turmeric root. This is a much less concentrated form of curcumin and perhaps a less effective one. The amount of Bioperine is also less than ideal. Studies seem to indicate that 20mg is required for maximum bioavailability.
Possible Side Effects
Turmeric has few side effects and the manufacturer lists none aside from standard warnings to those with preexisting conditions or are nursing or pregnant. A survey of reviews on the Puritan's Pride website and Amazon revealed no complaints of side effects.
Price
At the time of this writing, Puritan's Pride was selling Turmeric Curcumin 1000 mg with Bioperine at the sale price of $14.49 for one bottle of 60 capsules, and five bottles for $57.95.  This provides a bulk buying discount of $2.90 per bottle. Puritan's Pride offers free shipping in the contiguous United States.
At the time of this writing, Amazon offered this product for $11.95 for 60 capsules, effectively making the bulk discount available to those not buying in bulk.
This rather low price may be a reflection of the low potency of the supplement.
Guarantee and Feedback
Puritan's Pride offers a solid one-year guarantee.  The customer may return the supplement to be refunded the value of the unused portion.
Feedback on this product is largely favorable. It has achieved a %78 five-star rating on Amazon. The greatest number of complaints on Amazon and the Puritan's Pride website concerned the misleading labeling. Some purchased it believing it contained 1000mg of concentrated curcuminoids. Unfortunately, the supplement contains only a tenth of that amount. The second major issue was the large capsule size, which many customers found impossible to swallow.
Our Conclusive Review About Puritan's Pride Turmeric Curcumin
There are several things we like about this product.  Its ingredient list is simple, with no added flavorings, fillers or colorants.  It is also reasonably priced and has a good guarantee.
But these do not make up for the drawbacks. The factory does not appear to be GMP certified nor is there any apparent third-party oversight to provide confidence in purity and efficacy. More significant than these is the low concentration of curcuminoids in the capsule. The small amount may render this product ineffective.  For these reasons, we cannot recommend this product.
Bringing you top reviews and product analysis - Consumer Advisors.