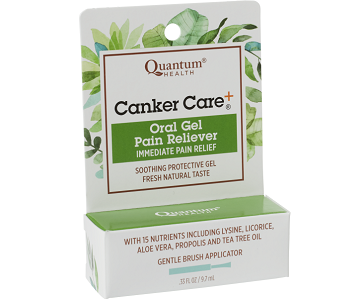 User Ratings (

0

Votes)

0
The following review will determine whether Quantum Health Canker Care is an ideal remedy for canker sores. The manufacturer claims that the product is designed to provide natural and immediate pain relief from canker sores. We will assess the reliability of this claim to determine whether you should consider this as an optimal product for relief.
Ingredients
The main ingredient in this product is Menthol. The product contains several inactive ingredients, however, these do not significantly impact its ability to deliver results. The fact that this product only contains Menthol is very concerning as this ingredient alone cannot serve as a total-care remedy for canker sores. While it may provide a level of pain relief, it will not get to the root of the problem and prevent the formation of future wounds. There are many more beneficial ingredients that would enhance the product's ability to deliver optimal results. Vitamin B12 deficiency is largely linked to the formation of canker sores and the lack of this substance in this formula is worrisome. Another major concern as that there is no indication if the manufacturing of this product followed cGMP guidelines. These guidelines provide a certification of quality that bodes well for the efficacy of supplements. It is positive to note that all the manufacturer's products are non-GMO.
Dosage
The product should be applied to the affected area up to four (4) times a day. Each application provides 5% Menthol. This is a significant concentration of Menthol, however, the lack of other essential ingredients renders this dosage inferior to alternatives on the market.
Possible Side Effects
The manufacturer does not state if the use of this product may lead to unwanted side effects. This is somewhat concerning as individual reaction to the product will vary. Potential customers would need to test their tolerance to the product, however, this can only be done after a purchase has been made.
Price
This product can be purchased online from the manufacturer's website. A 9.7ml tube costs $8.29. This is reduced from $8.99, meaning you save 8%. This is hardly a significant saving. What is even more concerning is that this is a relatively expensive price to pay for a product that lacks essential ingredients. There are several alternatives with beneficial formulas that are priced more competitively. The manufacturer does not offer any additional discounts or bulk-buy deals to encourage long-term use of this product. This could become a costly endeavor.
Guarantee & Feedback
The manufacturer claims to offer a 30-day money-back guarantee. That said, the guarantee is very vague and does not clearly stipulate what condition a product should be in to be eligible for a refund. Customers would need to get a hold of the manufacturer to determine this information and conditions may render their refund ineffective. Many competitors have safer and more reliable guarantees to support product efficacy. There are very few customer reviews. Therefore, we cannot confidently vouch for the effectiveness of this product.
Our Conclusive Review About Quantum Health Canker Care
This product may provide temporary relief from pain associated with canker sores, however, it cannot be considered a total-care remedy for them. The product is relatively expensive when considering that it lacks several essential ingredients. While a guarantee is in place, it is very vague and difficult to trust. The lack of customer reviews to vouch for product efficacy make it difficult to rely on this product. For these reasons and more, we recommend purchasing a product with a better track record.
Bringing you top reviews and product analysis - Consumer Advisors.