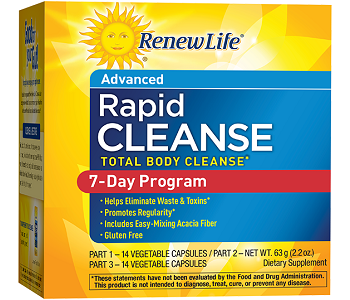 User Ratings (

0

Votes)

0
RenewLife Rapid Cleanse is a natural product which is designed to remove or reduce toxic chemicals which have built up in the body. Due to stressful situations or incorrect dietary intakes, certain metabolites (products of metabolic reactions) can build up in the body, and this can result in negative health effects. The ingredients present in Rapid Cleanse redistribute or help the elimination of these metabolites. This review assesses the effectiveness of this product as well as the customer care offered by the manufacturer in relation to similar products on the market.
Ingredients
RenewLife Rapid Cleanse contains a variety of antioxidant substances. These antioxidants remove radical chemicals from the liver where they build up due to metabolic stress. If left unchecked these radicals could cause major damage to the cells in the liver. The antioxidant substances present in this supplement include vitamin C, oregano leaf extract, bamboo leaf extract and milk thistle extract.
Another important action of this product is to restore the fuels which were burned during metabolic stress. This product contains betaine hydrochloride, glycine, glutamine methionine and n-acetyl-cysteine to replace the fuels which were depleted. Other ingredients in this product like burdock root extract, turmeric root extract and fenugreek seed extract increase the uptake of insulin into the muscles and liver to restore energy to these organs.
This product also contains ingredients which enhance the activity of enzymes in the liver. Dandelion leaf extract and dandelion root extract as well as garlic bulb extract have been included to stimulate the activity of an enzyme called glutathione transferase. Glutathione transferase is responsible for metabolizing many toxic chemicals.
A second supplement included in the package contains large amounts of fiber from the acacia plant. A third supplement contains natural laxatives from plants such as Rhubarb, Cape aloe, marshmallow root, slippery Elm, and a triphala blend. The combined effect of these supplements improves elimination of harmful substances from the body.
Dosage
The first two supplements come in a powder form and must be taken twice a day mixed with 8 ounces of water each time. The third supplement is a capsule and 2 capsules must be taken at night with 8 ounces of water. All three supplements must be taken for seven days.
Possible Side Effects
There are many ingredients in this product which could cause an allergic reaction. Stop use immediately if any adverse reactions occur. Pregnant and breastfeeding women as well as anyone with a chronic medical condition should consult a physician before using this supplement.
Price
The entire package can be purchased online for $29.99. RenewLife Rapid Cleanse currently qualifies for free shipping.
Guarantee & Feedback
If, for any reason, the user is unsatisfied with the product they can return it opened or unopened within 60 days for a complete refund.
The customer reviews are mostly positive but there is a complaint that the product didn't work for a few customers.
Our Conclusive Review About RenewLife Rapid Cleanse
RenewLife offers a natural product at a reasonable price. The ingredients are fairly well supported by scientific literature. We find it problematic that there are so many ingredients and separate supplements though. The ingredients could interact with each other and the directions for use are quite confusing.
Bringing you top reviews and product analysis - Consumer Advisors.