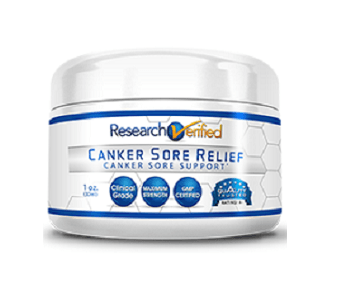 User Ratings (

0

Votes)

0
This article reviews Research Verified Canker Sore Relief. Based on the extensive research carried out during this review, we can ascertain that this product has a strong formulation for curing canker sores. This product claims to have a multi-action formula with 100 percent natural ingredients that reduce the severity, duration, and frequency of canker sores. It also alleviates pain, speeds up the healing process, and helps in the prevention of canker sores. Read on to learn more about Canker Sore Relief.
Ingredients
This product contains:
Alum- This ingredient has both antiseptic and astringent properties. The powder is used because of its ability to absorb moisture. It also has antibacterial properties that make it an effective mouthwash.
Vitamin B12– This vitamin enhances energy and is essential for the nervous system and the brain. Research has shown that this ingredient reduces canker sores.
Propolis- Bee propolis has both antifungal and antibacterial properties. It can also reduce inflammation and pain.
Licorice– It has anti-inflammatory, antimicrobial, and antiviral qualities. It aids in soothing and coating injured mouth tissues.
Lysine- This amino acid plays a significant role in the absorption of calcium and in hormone, antibody, and enzyme production.
Folic Acid– It is vital for numerous bodily functions and research has shown that it can relieve canker sores.
Holy Basil- This ingredient has antimicrobial, antiviral, and antioxidant properties that are essential for the treatment of canker sores.
This product has no preservatives, additives, or artificial ingredients.
Dosage
Users should apply small quantities of the powder directly on the affected area and wait for sixty to one hundred seconds before removing the powder. The mouth becomes watery due to saliva. The next step involves swishing thoroughly with powder and saliva for 180 seconds. This procedure should be repeated two to three times daily. For prevention purposes, mix the powder with water and swish in the mouth one to two times daily. Pregnant or nursing mothers and people taking medication should consult a physician before using this product. Stop using the product in case of adverse reactions.
Possible Side Effects
Given that the manufacturer advises users to discontinue use in case of adverse reactions, we presume that some people might experience some adverse reactions. However, this product is made from all-natural ingredients and is third-party tested for safety so we assume the risk of side effects is minimal. You can read more reviews about Research Verified to learn more about the quality standards this manufacturer holds to.
Price
This product is available in different packages that allow potential consumers to make a choice depending on their needs and capability. One jar costs 48 dollars while three jars cost 33 dollars each. The recommended package has six jars and costs 24 dollars per jar.
Guarantee
Research Verified has a refund policy that enables unsatisfied consumers to return the product within 365 days for a full refund. This is an encouraging strategy because it assures consumers that they will be satisfied. However, consumers who purchase products based on customer reviews may have trouble in making a purchase decision because there are no customer reviews.
Conclusion Of Our Research Verified Canker Sore Relief Review
There are numerous reasons that can make you want to try this product. For instance, the ingredients are 100 percent pure and natural. There are no contaminants meaning that this product is effective. Additionally, this product contains clinically approved ingredients and comes from a GMP certified facility. In addition, the product is backed with 100 percent satisfaction guarantee that shows the confidence of the manufacturer. Furthermore, the manufacturer offers the product at discounted prices.
Bringing you top reviews and product analysis - Consumer Advisors.