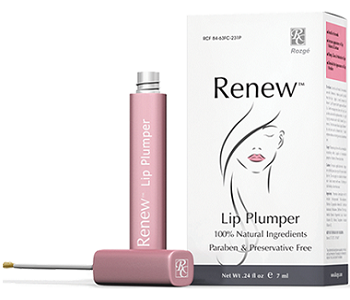 Quality of Ingredient

7.5

User Ratings (

0

Votes)

0
This is a comprehensive product review for Renew Lip Plumper, from Rozgé Cosmeceutical. A product that promises to provide the user with a way to achieve fuller and lusher looking lips without the need of surgery or fillers. Claiming that it can produce a naturally volumized look by invigorating and stimulating the lips, the manufacturer promotes their non-invasive formula as effective.
Ingredients
Vitamin B3
Vitamin E
Retinol
Mentha Piperita (Peppermint) Leaf
This lip plumper is mostly made from seemingly natural ingredients, including various vitamins, mineral, and essential oils. Vitamin B3 is included for its blood flow promotion properties, which helps to increase the size and improve the color of the lips. Vitamin E is widely used as an oil that can better the condition of the skin and leaves it feeling moisturized. This oil also helps to protect and reduce the effects of external damages, such as sunlight. Retinol, also referred to as vitamin A, is a skin smoother, meaning that it can improve the appearance of fine lines and wrinkles as it boosts collagen production. Finally, peppermint oil has known stimulant effects which would allow the lips to puff up giving them a fuller appearance.
While this product has been positioned as a more natural option, after more research we found that it also consisted of some potentially negative chemical additives. These included; (Hydrogenated Polyisobutene, Palmitoyl Oligopeptide, Sorbitan Isostearate, Polybutene, Ethylhexyl Palmitate).
How To Use
The manufacturer suggests that for the best results, this product should be used on clean, makeup and product free lips. A small amount of the lip plumper should be carefully massaged into the area of the lips you would want to appear fuller. It is normal to expect some tingling and a flushed color on the lips. This product should only be used every four hours.
Price
If you would like to purchase this lip plumper, you are looking to spend approximately $45 for 7ml – directly from the manufacturer's website. After more research, we were unable to establish whether or not there were any special rates or offers. However, we did find that if your order more than $330, the shipping rate will be worked out as a percentage of that amount.
Guarantee & Feedback
While we were unable to find reviews from past clients, we did find a satisfaction guarantee that has been put in place by the manufacturer. If for any reason you are unhappy with the product and its results you can return the product – provided that you purchased it directly from the manufacturer and your return falls into the allocated 60 days. Unfortunately, you would be liable for all shipping costs as the original product price alone will be refunded.
Our Conclusive Review About Rozgé Cosmeceutical Renew Lip Plumper
Wrapping up this product review for Rozgé Cosmeceutical Renew Lip Plumper, we enjoyed that this lip plumper did boast some natural ingredients that have the potential for a beneficial outcome. We also liked that there was a returns policy that had been put in place. However, the undisclosed amounts of chemical ingredients were worrisome. This together with the high price and the small quantity of product make us question how worthwhile it is as a lip plumper. As there are other products with patented ingredients on the market.
Bringing you top reviews and product analysis - Consumer Advisors.