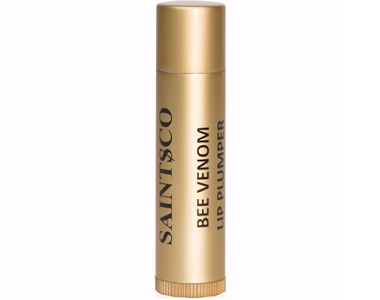 Quality of Ingredient

7.5

User Ratings (

0

Votes)

0
Read our review for Saintsco BEE VENOM LIP PLUMPER, a product that claims it can provide the user with a bee-stung pout, that is both hydrates and nourished. The manufacturer of this lip volumizing product suggests that it works by tricking the lips into thinking that they have been stung by a bee – which in turn gives volume to the surface. This product also claims that it can reduce the appearance of fine lines around the mouth.
Ingredients
Pure Bee Venom
Pure Manuka Honey
Bees Wax
Shea Butter
Apricot Kernel Oil
Grape Seed Oil
Cacao Seed (Cocoa) Butter
Vitamin E
Capsicum Annuum Fruit Extract
The list of active ingredients in this product comes across as being completely natural, which is a positive. Although, there is no mention of patents and anti-cruelty practices. Pure bee venom is culturally used in pain medication and while used to create a stimulating effect for lips to swell slightly, it can be harmful when not administered by medical professionals and in incorrect dosages. Pure Manuka Honey has many enzymes, minerals and other properties that help to moisturize and combats inflammation. The oils in this product are mainly used for their protective and hydrating characteristics. While the Capsicum Annuum Fruit Extract, further stimulates the lips.
How To Use
To use this product, you should first do a patch test on the skin of the lip. Dab a small amount of the plumper on a section of your lip and leave it for 20 minutes. If no bad reaction occurs, continue to use sparingly until you achieve the desired effect.
Price
If you would like to purchase this product for fuller lips, you can buy it online from the manufacturer's website at a price of $22.39. Unfortunately, we were unable to identify whether or not any special discounted packages were on offer at the time of this review.
Guarantee & Feedback
If you, as the consumer/user, are not satisfied with your purchase you are able to return it for a full refund within the allocated 30 days after you receive your item(s). However, the product can not be used and have to be in resellable condition. No postage is refundable. This makes it impossible for someone to test the product before deciding whether it works or not – putting customers at some form of financial risk.
Our Conclusive Review About Saintsco BEE VENOM LIP PLUMPER
Ending off our review for Saintsco BEE VENOM LIP PLUMPER, we liked that this product came with seemingly natural ingredients only and that the price was fair in relation to other similar offerings on the market. However, we were concerned about the lacking returns policy, the limited usage instructions and the fact that bee venom can lead to some adverse effects if not controlled in a professional environment. Another downside to this product is that the manufacturer has offered any discounts or bulk purchase deals which means that this product could land up costing more than you bargained for considering that it should be used over a long period of time. It may be a wise decision to look at alternative products that meet industry standards instead.
Bringing you top reviews and product analysis - Consumer Advisors.