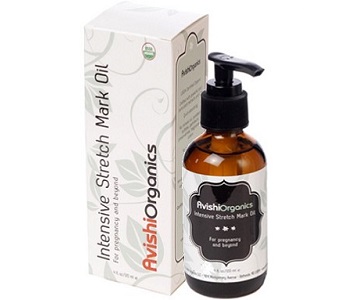 User Ratings (

0

Votes)

0
In this review, we will look at Avishi Organics Intensive Stretch Mark Oil. The manufacturer of this product claims that it renews skin, minimizes the appearance of stretch marks, and prevents new marks from forming during pregnancy. We have provided an in-depth analysis to determine the truth of these claims and if you should consider the product for purchase.
Ingredients
Rosehip Seed Oil
Helichrysum Italicum
Sea Buckthorn Oil
Tamanu Oil
Borage Seed Oil
Macadamia Nut Oil
This is an appealing formula of all-natural ingredients. Rosehip Seed Oil and Helichrysum Italicum are known to promote elasticity, regenerate skin cells, and reduce scarring. Sea Buckthorn Oil supplies high concentrations of key vitamins used to repair damaged skin. Tamanu Oil has anti-inflammatory properties and works to soothe the skin. Borage Seed Oil restores moisture which plays a role in speeding up the healing process. Gotu Kola is argued to nurture the connective tissues of the skin. Macadamia Nut Oil has protective properties which prevent damage caused by external stressors. While these ingredients are beneficial, competing products include dual-action formulas that supply additional ingredients. These may provide superior results as the top products contain medical grade silicone. This ingredient is clinically proven to seal in moisture and speed up healing for optimal benefit.
Dosage
The manufacturer provides sufficient information on how to use this product. They suggest that you apply the product twice daily for a minimum of three (3) months. It should be massaged over the affected area, in a circular motion, until fully absorbed. The manufacturer regrets to provide the concentration of active ingredients and, therefore, we cannot determine how strong this dosage is.
Possible Side Effects
The manufacturer warns that in the unlikely event of skin irritation, use should be discontinued. This precaution suggests that the product may contain allergens. Customers should monitor for reactions, however, this can only be done after a purchase has been made.
Price
This product is sold online from the manufacturer for $38.50. This price comes at no discount and there are no bulk-buy deals to encourage prolonged use. This is very concerning as the standard price is significantly higher than many competing products.
Guarantee & Feedback
Customers who are not satisfied with this product are not covered by a guarantee. The lack of guarantee for opened products suggests that the manufacturer is not confident in the product's ability to deliver effective results. Another major concern is that there are limited customer reviews on third-party sites to vouch for the efficacy of the product. There are customer reviews on the manufacturer's website, however, only the best reviews are posted on behalf of the customers. This presents a false product image.
Our Conclusive Review About Avishi Organics Intensive Stretch Mark Oil
This product contains an appealing formula of natural ingredients that are known to reduce stretch marks. Howbeit, used products are not covered by a guarantee. This brings the efficacy into question. The price is relatively steep and there are no discounts to encourage long-term use. The lack of sufficient customer reviews on third-party sites makes it difficult to assess the guaranteed effectiveness. These are some of the reasons we do not recommend Avishi Organics Intensive Stretch Mark Oil.
Bringing you top reviews and product analysis - Consumer Advisors.