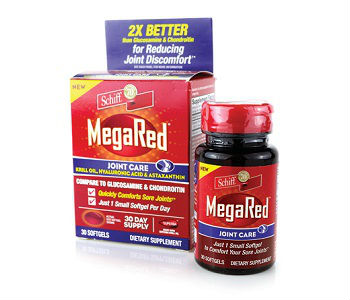 User Ratings (

0

Votes)

0
You should care for your joints as they are the only ones you will have for your entire life! Understanding that a proper lifestyle can help us maintain a healthy body, some complications will still be unavoidable as we age. This MegaRed Joint Care review is relevant for this current topic.
There are ways to alleviate joint pain no matter what age you are. One possible way to help joint related problems is with MegaRed Joint Care.
MegaRed claims to be a supplement that is better than glucosamine and chondroitin for managing any joint discomfort that you may face. It uses hyaluronic acid which acts by cushioning and lubricating your joints so you can go about your daily activities without pain.
Ingredients
It contains a blend of:
Hyaluronic acid – acts like glucosamine but acts with a 'cushioning' effect on your joints.
Astaxanthin – an antioxidant that can prevent inflammation and oxidative stress.
Krill oil – a source of omega-3 essential fatty acids.
As this is a blend of these ingredients, we don't know the actual quantities of each ingredient. Other ingredients found in MegaRed Joint Care include gelatin, extra virgin olive oil, glycerin, water, yellow beeswax, red 40, ethyl vanillin, titanium dioxide, caramel (color), blue 1, and mixed tocopherols.
Dosage
Adults are advised to take one capsule per day. We do like the sound of this as if offers a great deal of convenience for the consumer. The proprietary blend is not something we like as the company does not tell you how much of each ingredient is in each capsule. All we know is the proprietary blend is 353mg, but that weight may also include the other safe, yet non-active, ingredients.
Possible Side Effects
People who are allergic to shellfish should not take this product under any circumstances. Those taking anticoagulants should also consult their doctor before using this supplement.
Price
We like the price of this product and for a good reason. For $24.99 you can get a 30-day supply.
For all orders over $50 you can get free delivery – but the way each bottle is priced means you have to buy 3 bottles! The manufacturer does not offer any bulk-buying discounts.
Guarantee & Feedback
Products on the website come with a 30-day money back guarantee so you are not at any risk of being ripped off. However, it is not clear if you can return both open and unopened bottles. We could only see one customer review but it was a good one. But as this is on the manufacturer's site, it can't really hold much weight.
Our Conclusive Review About MegaRed Joint Care
There have not been as many studies conducted on the active ingredients in MegaRed Joint Care to back up the claims of efficacy. As this product is made up of a blend of three ingredients, it is not clear how much of each ingredient the product contains. This may affect the effectiveness of this product. We think it is worthwhile looking at other products on the market that provide more information about their ingredients and have more proven results.
Bringing you top reviews and product analysis - Consumer Advisors.