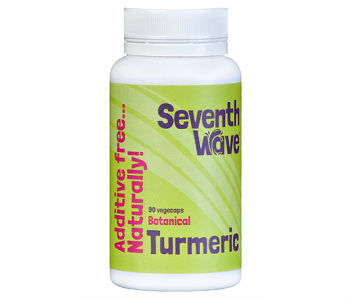 User Ratings (

0

Votes)

0
The healing benefits of Turmeric have been known for centuries across many ancient traditional medicine practices. This is one of the main reasons why the simple plant has become one of the highest selling natural supplements on the market. There are now multiple studies that have concluded that turmeric provides health benefits to users. In order to find the best product for ones needs it is necessary to consider a few things first. When customers are looking for a supplement, it is wise to review the literature on the product, the return policy and what ingredients are in the product.
Seventh Wave Turmeric is one supplement on the market worth reviewing. The company claims that their product improves users immunity, relieves inflammation, and provides improved cardiovascular health. The product claimed to be made of quality natural ingredients, which lowers the risk of possible side effects. There is very little processing and no GMOs in Seventh Wave Turmeric and it has a GMP – Good Manufacturing Practice certification in the UK. All of these attributes make Seventh Wave Turmeric an attractive product on the market.
Detailed below is information about Seventh Wave Turmeric that consumers may find useful, such as; ingredients, recommended dosage, price, product guarantee and overall conclusion on the value for money of the product.
Ingredients
There are no other ingredients listed on the product. The manufacturers ensure that the product is Free of dairy, gluten, soy, wheat, sugar and yeast.
Dosage
The manufacturers recommend that 1-2 capsules be taken 1-2 times daily with food for the maximum benefits to be received.
Price
One bottle of Seventh Wave Turmeric is available for £11.95 for 90 vegetarian capsules. This amount is approximately a one and a half months supply if 2 capsules are taken daily as recommended.
Guarantee
The manufacturer offers a 30-day unconditional product satisfaction guarantee to their customers. This provides a one-month trial period to purchasers to see if they are happy with the product. If they are not satisfied with their purchase they may return the product and receive a full refund, if within 30 days of purchase.
Conclusion Of Our Seventh Wave Turmeric Review
Overall, Seventh Wave Turmeric is a decent turmeric supplement on the market. The use of natural a whole ingredient reduces the risk of allergic reaction in users. The money back guarantee is a good decision by the manufacturers, however 30 days is not necessarily long enough for users to see results.
Bringing you top reviews and product analysis - Consumer Advisors.