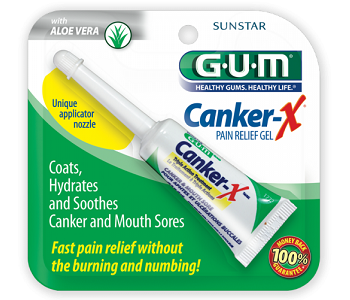 User Ratings (

0

Votes)

0
A canker sore, also known as an aphthous ulcer, is a non-lethal lesion that occurs in the mouth. The formation can be triggered by different things. These include physical wearing, mental stress and allergies. They often do not become infected and are not hazardous to general health. They can however be very uncomfortable and make speaking and eating difficult. There are a variety of pharmaceutical and natural products available for the treatment of canker sores. In this review we focus on a product from Sunstar Gum called Canker-X Gel. This gel is designed to form a protective barrier and to promote healing of the canker sore.
Ingredients
The gel acts as a protective antiseptic because it contains Benzalkonium chloride. Benzalkonium chloride is able to disrupt the associations between the large molecules which make up a bacterial cell membrane. This causes any potential infectious bacteria to leak its contents and die. The gel also contains sodium hyaluronate. The substance forms an actual physical barrier over the canker sore.
Glycyrrhetinic Acid, extracted from licorice, acts as an anti-inflammatory substance and mild anesthetic. This gel also contains Aloe extract which is common in many topical products. This is because Aloe vera extract can perform many actions. It contains antimicrobial and antioxidant substances as well as chemicals which promote skin regeneration.
Dosage
The gel can be applied when necessary. A few drops of the gel should be squeezed onto the affected area and then spread using a finger or swab. The gel should be allowed to absorb and food should not be eaten straight after application.
Possible Side Effects
No major side effects have been reported with the use of this product. However, caution should be taken not to ingest large amounts of this gel. If any allergic or hypersensitivity reactions occur use of the product should be stopped immediately.
Price
The suggested price is $6.95. This product is available from the various retailers and online stores but prices may vary slightly. A single tube contains 0.28 fl. oz. of the gel.
Guarantee & Feedback
Sunstar Gum Canker-X Gel is supported by a 30-day money back guarantee. If any customer is unsatisfied with the product they will then receive a refund. This guarantee only applies if the product is able to be resold.
The customer reviews for this product were mostly positive. There are some complaints that the product does not work or that the pain from the canker sore returned a few minutes after application.
Our Conclusive Review About Sunstar Gum Canker-X Gel
The research behind the ingredients included in this product is well substantiated. The application and directions of fairly simple and easy to follow.
There is a slight chance that the product will not work based on the experiences of previous customers. In this case a used product cannot be returned for a guarantee because it is not resellable. We feel the purchase of this product is a risk compared to other manufacturers which offer a complete satisfaction guarantee on their canker sore treatment product.
Bringing you top reviews and product analysis - Consumer Advisors.