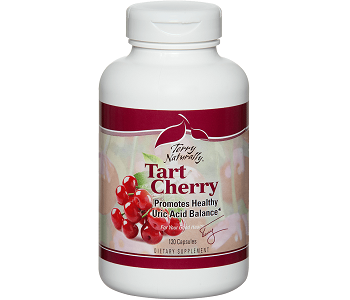 User Ratings (

0

Votes)

0
This is a review of the dietary supplement Tart Cherry, manufactured by Terry Naturally Vitamins. The manufacturer of this dietary supplement claims that the capsules contain the antioxidant anthocyanin, which helps enhance the body's resistance to oxidative stress. More so, these antioxidants help to balance uric acid in the body.
Ingredients
The only active ingredient is tart cherry (1500 mg). This substance helps to reduce one symptom of gout – the pain. However, it also helps to reduce the uric-acid levels, which in turn can help to reduce future flare-ups. This formula contains 15000 mg of tart cherry which is the optimal dose.
Other inactive ingredients: hydroxypropyl methylcellulose (vegetable cellulose capsules), silica, microcrystalline cellulose, vegetable source magnesium stearate. This health product is suitable for vegans and vegetarians.
Dosage
The manufacturer recommends that one (1) or two (2) capsules be taken daily. However, no instructions are given on time of day or whether meal times are best for taking the product, nor whether with liquid. If pregnant, or nursing, first consult a health-care provider before taking this product.
Price
A bottle of 120 capsules costs $35.95 and is available on the manufacturer's own website. No discounts are offered.
Guarantee & Feedback
The manufacturer of this dietary supplement does offer a full guarantee, excluding shipping and handling fees, if a buyer is not satisfied with the product. Contact the company per email for a Return Authorization Number. This number must accompany the returned goods. No time limit is stated for return of goods to receive the refund.
Despite our research efforts, we were unable to find any reviews on this product. Reviews are useful for potential buyers to read, as they indicate the experience of using a certain product. Both long-term, as well as short-term benefits of the product should be listed, however, this was not found with this product.
Our Conclusive Review Of Terry Naturally Vitamins Tart Cherry
The value of tart cherry is well recorded. This dietary supplement contains the optimal quantity of this substance. In addition, the manufacturer of this health product does offers a 100% refund guarantee on these supplements. Despite this, our research uncovered some concerns. Firstly, the guarantee is unclear: there is no indication of length of time the guarantee holds valid. Secondly, there are no purchase options with discounts offered by the manufacturer. In the long term, this product will not work out sufficiently economical for a consumer. Thirdly, even though this supplement contains the optimal amount of tart-cherry extract, this substance alone is not enough to treat gout. Scientific studies have found that there are eight more ingredients, such as folic acid, artichoke, garlic, yucca, milk thistle, turmeric, dandelion and rutin, also effective in treating gout and inflammation. Lastly, the instructions on dosage are vague, leaving the consumer at a loss for when and how to take the product for optimal results. It might therefore be better to not use this dietary product, especially with so many other similar dietary supplements, yet better gout supplement products on the market currently.
Bringing you top reviews and product analysis - Consumer Advisors.