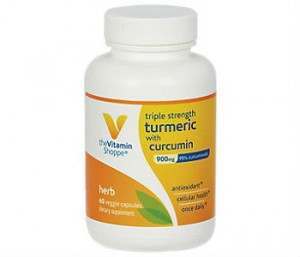 User Ratings (

0

Votes)

0
Triple Strength Turmeric with Curcumin, produced by Vitamin Shoppe, is one of the many options for the natural health supplements. It is popular today because of the asserted belief that turmeric can be able to deliver a wide array of health benefits. While it has been a popular spice for Indian cooking in the ancient years, it has been also a preferred choice in the field of alternative medicine. With such, there is no wonder why it is now seen as one of the most common ingredients in the market for health supplements today.
Turmeric, the main ingredient used in this supplement, is believed to be a potent source of anti-oxidants and anti-inflammatory properties. Because of such, it is a common supplementation choice for people who are suffering from arthritis and several studies have even proven that patients responded better to curcumin than with the anti-inflammatory drugs that have been studied. It is also known to help in the treatment of depression and the improvement of mood. Many recent studies have also centered on how it has the potential to not only prevent, but even treat different types of cancer. More so, because it is abundant with antioxidants, it is also commonly used for its anti-aging benefits, allowing users to maintain their youthful and radiant glow through the years.
Ingredients
900 milligrams of Turmeric Extract
5 milligrams of Bioperine
Silica
Vegetable Cellulose
Dosage
As it has been recommended by the manufacturer, one veggie capsule should be taken daily. Some people might feel that they have to take two or more of the supplements in order to achieve results quicker and more effectively. Nonetheless, this may not be best for all. To be sure, it is wise to first consult with a medical professional to know the right dosage. Stick to what is recommended to avoid the possibility of suffering from possible side effects.
Possible Side Effects
It is very rare that users will suffer from side effects because it does not contain artificial coloring and flavoring, corn, dairy, gluten, yeast, wheat, animal derivatives, and other common allergens.
Price
When purchased directly from the website of the manufacturer, one bottle can be bought for $47.99. Each bottle contains 120 vegetable capsules, which makes it good for three months of supply. Compared to other alternatives, this is pretty much very affordable. It can also be purchased from third-party online vendors, but action must be observed to avoid being scammed and to be confident that the product is legitimate.
Guarantee
From the website of the manufacturer, there is no explicit policy stated with regards to their product guarantee. This may make the purchase risky, and considered by some as a good reason to take a look at other turmeric supplements.
Conclusion Of Our The Vitamin Shoppe's Triple Strength Turmeric With Curcumin Review
In sum, this supplement from The Vitamin Shoppe can be an attractive purchase because of its affordable price. Nonetheless, some people might be skeptic in purchasing such because of the lack of satisfaction guarantee from the manufacturer. In addition, nothing has been also mentioned about approval from the FDA to ensure the effectiveness and safety.
Bringing you top reviews and product analysis - Consumer Advisors.