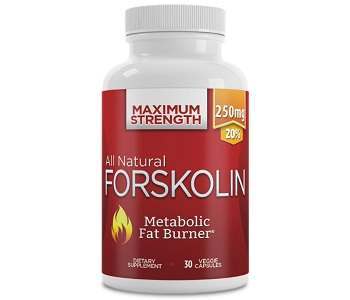 User Ratings (

0

Votes)

0
Burning fat can be tricky and extremely challenging. Luckily, several supplements are already available on the market which can induce a faster rate of burning all your excess fat away.
Read our review below about Forskolin Advanced and see whether this can help you in addressing your weight problems and achieving your desired waistline and toned body.
Ingredients
The active ingredient in Thrive Naturals Forskolin Advanced dietary supplement is 250 mg of Forskolin. It comes from the root extract of a mint plant known as Coleus forskhlii. This is well known in many countries in its use in traditional herbal medicine. According to studies, forskolin helps in battling stubborn fat in the body while building lean muscles and a higher bone density.
Inactive ingredients are also present, which include:
Cellulose (Vegetable capsule) – which serves as an excellent excipient
Rice flour – which acts as a filler
Dosage
The recommended dosage for Thrive Naturals Forskolin Advanced vegetarian capsules is one capsule per day. This should be taken 30 minutes before breakfast or dinner with a glass of water.
Possible Side Effects
At the moment, these vegetarian capsules, Forskolin Advanced, have no known side effects. It is highly advised to follow the recommended dosage to achieve the maximum benefit and optimal results and also to avoid any unforeseen unwanted effects.
Price
A bottle of Thrive Naturals Forskolin Advanced dietary supplement contains 30 capsules which costs $43.95 directly from the manufacturer's website. Several deals are being offered on the website too. Buying 3 bottles (90 capsules) will cost $118.95, allowing a 11% savings. You can also buy 6 bottles (180 capsules) for $223.95 and save up to 17% off the regular price.
Free shipping is also given to those who ordered the package of 3 or 6 bottles. Easy and hassle free ordering, quick processing, and safe shipping are also guaranteed.
Guarantee & Feedback
What if you are unhappy and unsatisfied with the results of the product? Thrive Naturals offers a risk-free 1-year money back guarantee or exchange guarantee. Just contact them via phone or email to avail of this guarantee.
Our Conclusive Review of Thrive Naturals Forskolin Advanced
Thrive Naturals Forskolin Advanced is a dietary supplement mainly to aid in burning away fat and stubborn excess weight. Many active users and new consumers proclaim the product to deliver as it has claimed. This product has maintained many satisfied customers and continues to gain more new users. It is readily available across different market sources and may be bought at discounted prices when bought in packages of 3 and 6 bottles each. It even comes with a money-back guarantee should you feel that the product does not meet your expectations.
Although the claim that this product aids in burning off excess fat is substantiated by a recent study, there was a difference between the dosages in the study cited by the manufacturer as compared to what is being recommended that is found in this brand. So this product may not be as effective as it claims to be as its dosage is too low.
Bringing you top reviews and product analysis - Consumer Advisors.