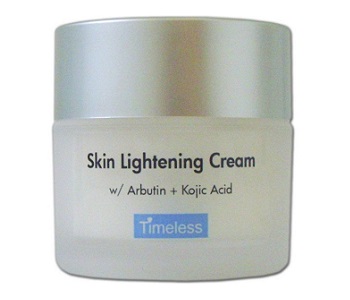 Quality of Ingredient

7.5

User Ratings (

0

Votes)

0
The subject of this review is for a product called Timeless Skin Lightening Cream. More and more people are struggling with marks and discoloration on their face and neck. For these reasons, the company has developed a product that claims to help lighten the skin with the help of 4 whitening ingredients in this luxurious non-oily cream. To find out more about Timeless Skin Lightening Cream, read our full review below.
Ingredients
Water
Modified Corn Starch
Kojic Acid
Magnesium Ascorbyl Phosphate
Hyaluronic Acid
Squalane
Licorice Root
Glyceryl Stearate
Cetearyl Alcohol
Isoprophyl Myristate
Isopropyl Palmitate
Dimethicone
Hydroxyethylcellulose
Disodium EDTA
Tocopheryl Acetate
Hexylene Glycol
Ascorbyl Palmitate
Ascorbic Acid
Citric Acid
Methylisothiazolinone
Timeless Skin Lightening Cream contains the ingredients listed above. They state that there are 4 whitening ingredients in the jar, however, we are not sure which of the ingredients it is. Also, the company mentions that the ingredients will gradually provide lightening results over a period of one month. Unfortunately, we are unable to see any patented ingredients, whereas other brands contain at least 5. In addition to this, these ingredients would be tested for effectiveness, whereas with this product we are unsure. A lack of crucial aspects as well as ingredients such as peppermint oil and mallow may result in a less effective product.
How To Use
It is recommended by the company that users apply the product onto cleansed skin in the morning and the evening. They also suggest that one use a sunscreen. The product is only intended for external use.
Price
The price per jar is $21.95. This is quite low and may be a result of low-quality ingredients and lack of credible research. Furthermore, the states of the product is 'coming soon', indicating that there is currently no stock. Customers will have to send an email to the company and wait for them to notify you that the product can be purchased.
Guarantee & Feedback
The manufacturer offers a 30-day money-back guarantee. Unfortunately, all products returned must be unused and in good condition. This guarantee does not leave the customer room to test it. As a result, you will be running a financial risk with the purchase of this product.
There are reviews written by customers on the company's website. Customers present mixed feelings as the product has worked for certain individuals and for others it has done nothing.
Our Conclusive Review About Timeless Skin Lightening Cream
In conclusion, Timeless Skin Lightening Cream has left us with positive and well as negative aspects. We like the fact that there are clear usage instructions followed by a few tips to provide the best looking skin.
However, the negative aspects are far more in comparison with the positive aspects. We seem to find that the product is not backed by patented ingredients that have been scientifically proven to be effective. In addition to this, the product is also lacking essential ingredients. Furthermore, the product seems to be currently unavailable and customers will have to wait for new stock to arrive. Also, the product seems to be priced quite low wish could support the fact that the ingredients may not be up to standard. Finally, the return policy is basically useless and you will be at risk. Due to these drawbacks, we do not recommend Timeless Skin Lightening Cream.
Bringing you top reviews and product analysis - Consumer Advisors.