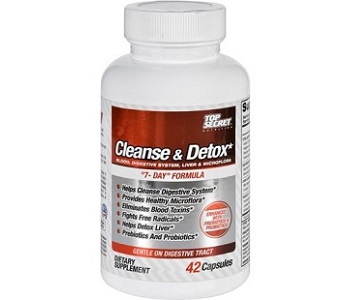 User Ratings (

0

Votes)

0
The following is a review for a product from Top Secret Nutrition called Cleanse & Detox. With the pressures associated with modern life, people often experience a buildup of toxins in the body. According to the manufacturer, this product is formulated to assist with the health of the digestive system. If your gut is healthy, your body becomes more efficient at eliminating toxins. This dietary supplement contains a variety of ingredients that facilitate toxin flushing as well as containing probiotic flora that boosts the health of your gut. This supplement works by eliminating the wastes and toxins that accumulate in your digestive system while also restoring the health of your gut.
Ingredients
This product contains a total body blend, gastrointestinal blend, and a liver cleansing blend. These blends contain a variety of natural ingredients. This supplement also contains a variety of different probiotics to repopulate your gut with healthy bacteria. The additional ingredients included in the formula are cellulose, magnesium stearate and silicon dioxide. Although this is a good list of ingredients, we were rather concerned about the excessive number of artificial ingredients included in the formula. We also feel like there are numerous ingredients that are not necessary.
Dosage
According to the packaging of this product, the dosage is rather straightforward. They recommend that you take three softgel capsules before breakfast and another three-softgel capsules before dinner. You should drink at least eight ounces of water when you take this supplement. They also state that you should make sure that you drink at least ten glasses of water each day you are on the cleanse.
Price
Sadly, you cannot buy this dietary supplement straight from the manufacturer. However, you will be able to find this product on Amazon.com. One bottle of this supplement costs $18.89. If you subscribe to this product, you will receive a discount that ranges between 5% and 15%. You will need to act fast as supplies are limited.
Guarantee & Feedback
We could not find any information regarding guarantees on the manufacturer's website. This is quite concerning as most customers feel reassured about the quality of the product they are receiving if they know that they are guaranteed on their purchase. We were also quite concerned that we were unable to find any return or refund policies on the manufacturer's website. An additional concern that we had was that we could not find any consumer reviews to give us an indication of the popularity of this product.
Our Conclusive Review About Top Secret Nutrition Cleanse & Detox
This review for Top Secret Nutrition's Cleanse & Detox found that it is a good supplement, which increases the body's ability to get rid of excess toxins. This product provides the recommended dosage nutrients and the manufacturer provides clear instructions that are easy to follow. However, the fact that this product contains such a high percentage of artificial ingredients coupled with the fact that this supplement is not safe for vegans or vegetarians to use made us question how good it really is. We were also rather alarmed that this expensive supplement does not provide any guarantee for the customer.
Bringing you top reviews and product analysis - Consumer Advisors.