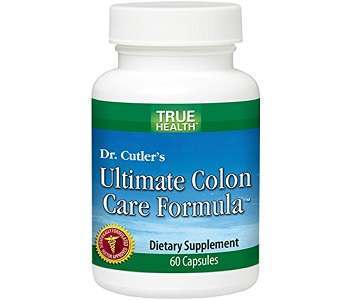 User Ratings (

0

Votes)

0
Keeping your colon healthy will keep you feeling energetic and at your best. As the colon is the place where nutrients are absorbed from your food, waste can build up leaving your colon not functioning at its best. A toxin buildup in the colon will leave you feeling fatigued, bloated, and having a heard time losing weight. There are many products available on the market that aim to cleanse your colon from these toxins by keeping your bowel movements regular. This review will take a look at the product True Health Ultimate Colon Care Formula. This product claims to relieve constipation, gas and bloating and support the healthy functioning of the colon. It also aims to promote healthy bowel movements.
Ingredients
This product contains Cape Aloe Leaf and Chinese Rhubarb, licorice root, ginger root extract, peppermint leaf, Bacillus Coagulans, and a digestive enzyme blend. Cape Aloe leaf is known to stimulate colon contractions which allow waste to pass through the intestines easily, providing relief from constipation. Peppermint leaf is known to help reduce bloating and calm irritated bowels. Ginger helps reduce gas and the digestive enzymes help your body properly digest food without causing discomfort.
Dosage
The directions for this product are a bit unclear. The product label states to take one capsule up to two times a day as needed before a meal. It is not clear under what conditions you should take this supplement twice a day and what "as needed" refers to. It is also suggested to follow the directions of a healthcare provider. This product is not designed to be taken long-term.
Possible Side Effects
There are no mentioned side effects of this product. This product is not supposed to be taken on an ongoing basis but there is no explanation for how long this period is.
Price
The manufacturer offers a few different purchasing options with this product which you can buy online. Each bottle contains 60 capsules.
You can buy one bottle for $29.95 plus $6.95 for shipping. With this purchase, you will get a free information booklet about hemorrhoids.
You can buy three bottles and get a fourth one free for a total cost of $79.95. With this package, you will get free shipping plus two free information booklets.
You can buy six bottles and get two bottles for free for a total cost of $119.95. This package also comes with free shipping as well as three information booklets.
Guarantee & Feedback
The manufacturer offers a full 100% lifetime guarantee. If you are not happy with the product, you can return it at any time for a full refund.
The reviews we found for this product on Amazon were very mixed. Some people experienced mild cramping when taking Ultimate Colon Care Formula.
Our Conclusive Review About True Health Ultimate Colon Care Formula
This product seems to contain some effective ingredients for keeping the colon healthy and for reducing stomach discomfort. It also comes with a great guarantee and pricing options. However, there is not much information about the manufacturing process of this product. It also does not seem to come with a GMP certification. It is lacking the beneficial ingredient Psyllium Husk which is common in some other products of this kind. The directions for this product are also not very clear. We have come across alternatives on the market that offer a wider range of ingredients and also come with excellent guarantees and pricing options so it may be worthwhile doing more research.
Bringing you top reviews and product analysis - Consumer Advisors.