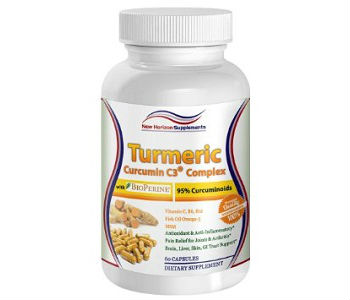 User Ratings (

0

Votes)

0
In reading this review of Turmeric Curcumin C3 Complex, you will gain insights on what the product claims to do, including its ingredients, the right dosage, price, and product guarantee. This will provide you with the enlightenment on whether it can be a good choice for supplements or if you should keep on looking for other alternatives.
This turmeric supplement is manufactured by New Horizon Supplements. The main ingredient is derived from a root that originates in India and is considered to be one of the most potent natural sources of diverse health benefits. The active compound is known as curcumin, which is basically the one responsible for delivering its many health effects. Among others, it is known to be abundant in antioxidants, which makes it excellent in anti-aging benefits, especially for the skin. It is also claimed to be an effective treatment option for depression, which is attributed to its ability to enhance the hormones triggering good mood. Being rich in anti-inflammatory compounds, it is also reputed as helpful in preventing and treating arthritis, similar to how anti-inflammatory medications would work. It also enhances mental functionality and several studies supported how it can be helpful in the prevention of Alzheimer's disease. Lastly, this supplement, since it uses turmeric as main ingredient, can also improve digestion and promote better liver health.
Ingredients
Vitamin C in the form of Ascorbic Acid
Vitamin B6 in the form of Pyridoxine HCL
Vitamin B12 in the form of Cyanocobalamin
DHA
EPA
Bioperine
The supplement contains a proprietary blend, which has been developed by the manufacturer based on their own research with regards to what is most effective in the delivery of the anticipated results from turmeric supplementation.
Dosage
As it has been recommended by the manufacturer, two capsules should be taken daily to maximize its effectiveness. Taking beyond the recommended dosage can be risky. Before you take more than what is suggested, you should first consult with a medical professional.
Price
The supplement is available from the website of third-party sellers, which is why their prices will vary depending on where you intend to purchase. From Amazon, for instance, one bottle of the supplement can be purchased for $35.99, which is discounted from the original price of $60. One bottle contains 60 capsules, which is good for one month of supply.
Guarantee
The manufacturer offers 100% money-back guarantee, which will allow you to be issued a refund if you are unhappy in any way with the use of the supplement. Nonetheless, there is no clear indication on the duration of the guarantee, which makes it confusing for customers.
Conclusion Of Our Turmeric C3 Complex New Horizon Supplements Review
In sum, this product from New Horizon Supplements can prove to be effective in delivering a wide array of benefits. It makes use of carefully formulated proprietary ingredients that have been thoroughly studied to prove their effectiveness. The problem, however, is that they do not have clear money-back guarantee policy. In addition, the manufacturer does not also provide details on FDA approval of the facility where it is produced, which is important to guarantee its safety and effectiveness.
Bringing you top reviews and product analysis - Consumer Advisors.