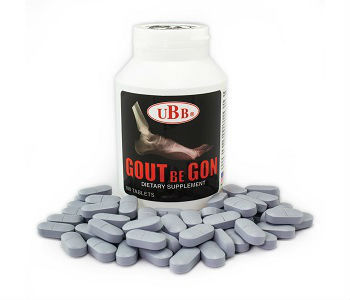 User Ratings (

0

Votes)

0
Gout Be Gon is a supplement that is made with from natural ingredients, which are used for a long time already in the field of alternative medicine. These ingredients are carefully chosen and grown without using toxic chemicals, which adds up to the safety and effectiveness they can provide to its users. Taking the supplement, as claimed by the manufacturer, will help in maintaining the right level of uric acid, metabolism, and reduction of swelling and pain in the joints, which are some of the most common gout symptoms.
Ingredients
Vitamin C: This ingredient is responsible for allowing the body to produce more uric acid and to have it excreted out of your system in the form of urine.
Potassium: Considered as one of the best minerals for gout treatment, potassium citrate reduces the possibility of having excess uric acid to be transformed into monosodium urate crystals.
Extracts of Devil Claw: This ingredient is rich in iridoid glycosides, which is also believed to be a potent anti-inflammatory agent. Some laboratory studies have proven that it has a compound that is effective in relieving pain. It is also a natural cleansing agent, which helps the body to get rid of toxic impurities.
Extract of Cherry: By being a natural anti-inflammatory compound, cherry will help in the inhibition of the production and release of histamines. It functions similarly to aspirin and ibuprofen, among other anti-inflammatory drugs.
Quercetin: Similar to prescribed medications for gout treatment, this is helpful in the inhibition of uric acid production.
Bromelain: This is generally responsible for aiding in the proper digestion of proteins. It is also known to significantly reduce pain and inflammation of the joints.
Extracts of Grape: By being high in alkaline, grapes are known for the elimination of uric acid and for lessening its acidity.
Dosage
As recommended by the manufacturer, it is advised to take two tablets daily, preferably in between your meals.
Will This Product Produce Long-Term Results?
Two of its main ingredients, extracts of grape and cherry, have been scientifically proven to aid in the management of gout symptoms for an extended period.
Price
One bottle of Gout Be Gon is priced at $34.99. You have to add $8.95 for its shipping. One bottle will contain tablets good for 50 days, which means that the average monthly cost will be $26.36.
Guarantee
The manufacturer has no guarantee and does not allow refund on the product. Also, they do not specify any manufacturing practice and quality assurance procedures.
Conclusion Of Our UBB Gout Be Gon Review
Even if it is made with natural ingredients, this product suffers from the drawback of having no satisfaction guarantee from the manufacturer. Also, there is relatively small amount of research proving the effectiveness of Vitamin C in gout treatment. Considering the fact that there is no guarantee from the manufacturer that the product will work, it is quite expensive for its price.
Bringing you top reviews and product analysis - Consumer Advisors.