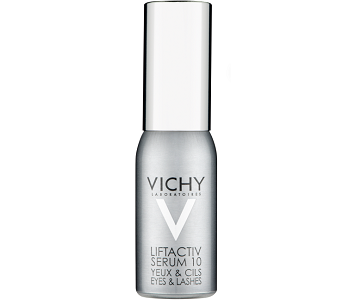 Quality of Ingredient

7.5

User Ratings (

0

Votes)

0
This is a review of LiftActiv Supreme Eyes & Lashes. The manufacturer claims that this product is a wrinkle-fighting, eyelash fortifying serum and that it illuminates and smooths eyes to restore a more wide-spread and youthful appearance. It is further claimed that it can visibly improve the appearance of eyelashes, under-eye wrinkles and crow's feet and that it can help to firm the skin around the eye and fortify and condition eyelashes. Read our review below to find out whether this product would be a healthy addition to consider.
Ingredients
Vichy Mineralizing Water
Hyaluronic Acid
Vichy Mineralizing Water helps to strengthen the moisture barrier function of the skin in order to help protect the skin. Rhamnose is proven to correct the effects of skin aging and boost overall skin structure. Hyaluronic Acid helps to plump and hydrate the skin.
This formula does contain a lot of inactive ingredients and it does not seem like any of the active ingredients are clinically proven. We prefer products which contain at least five clinically proven ingredients and with at least 10% active ingredients.
We would rather opt for an eyelash formula which is rich in vitamins and minerals as it will protect the lashes against free radicals which cause premature aging.
How To Use
One drop of eye serum should be applied to your fingertips. Then close your eyes and massage the serum into the entire eye area. Finish with a swipe from the inner eye corners while touching the lashes. This should be done twice a day.
Price
This formula can be bought for $35.00. They are not offering any discounts or bulk purchasing options at this stage.
Guarantee & Feedback
Products can be returned for 30 days after the purchase has been made. Empty products, however, can not be returned. This type of guarantee does not give the consumer a chance to try out the product without the risk of losing their money. This might mean that there are some concerns with regards to the effectiveness of their products. There are many other products available on the market with money-back guarantees that are valid even for empty containers.
There are only a few consumer reviews available on the manufacturer's website. Most clients are happy with their purchases, but one client has mentioned that there has been no improvement after she has started using the product.
Our Conclusive Review About Vichy LiftActiv Supreme Eyes & Lashes
We found that this product contains a few quality ingredients which might help to protect the skin, correct the effects of aging, boost overall skin structure and hydrate skin. We did find it a bit disappointing that the formula does not contain at least 10% active ingredients or more than five clinically proven ingredients – as this greatly improves the effectiveness of products.
Even though returns can be made within 30-days after the purchase has been made, this offer is not valid for empty containers. This means that the client does not get a chance to try the product risk-free. There are many other eyelash serums with money-back guarantees which are also valid for empty containers.
Bringing you top reviews and product analysis - Consumer Advisors.