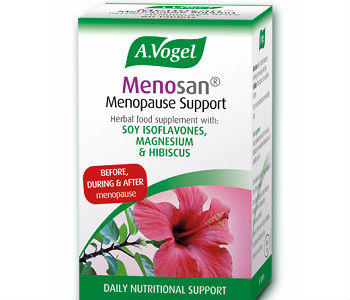 User Ratings (

0

Votes)

0
Menosan Menopause Support is an herbal dietary supplement designed to help woman through all stages of menopause. It claims to help alleviate hot flushing and excessive sweating during the night. It may also be used in combination of traditional hormone replacement therapies.
Ingredients
Menosan uses the following ingredients combined in what it calls a "unique formulation":
405 mg of Elemental Magnesium – an essential mineral important to the normal function of the body's cells, muscles, nerves, bones and heart. This supplement is used for people with a poor diet, suffering with alcoholism and to help treat digestive issues.
42 mg of fermented soy bean extract – contains 60% isoflavones which are converted in the body to phytoestrogens which behave similarly to the natural hormone estrogen. Soy is used to help treat high cholesterol and blood pressure. It can also help prevent heart disease. It is indicated in the treatment of diabetes.
35 mg of Hibiscus extract – is an herbal supplement used to treat the loss of appetite, upper respiratory pain and inflammation. The fruit acids of the hibiscus plant also act as a laxative. Some chemicals also help decrease muscle spasms.
.25 mg of Vervain essential oil – used to help stimulate lactation in breast-feeding woman. It may also treat kidney related issues like jaundice and gout. There is no clinical evidence to support specific dosing information; however it is traditionally given in two to 4 grams per day.
Additional inactive ingredients: microcrystalline cellulose, beetroot juice powder and hydrogenated cottonseed oil.
Dosage
It suggested taking Menosan Menopause Support twice daily, one tablet in the morning and one in the evening, with food. It is also safe to take with other hormone replacement therapies. It is not recommended for women who are pregnant, breast-feeding or taking hormonal contraception.
Side Effects
If you are allergic to any of the ingredients, you should not take this supplement. Stomach upset and nausea may occur. They normally go away quickly with continued usage of the product.
Price
The suggested retail price for A. Vogel Menosan Menopause Support is $23.86 for 60 tablets. If taken as directed this will be enough for a one month supply.
Guarantee
The company A. Vogel is located in the United Kingdom. The company does offer a product return policy and you can find local stockists throughout the United Kingdom. Menosan Menopause Support does have a 96% customer rating on their website and well-received customer reviews.
Our Conclusive Review Of A. Vogel Menosan Review
Menosan Menopause Support claims to alleviate many of the symptoms of menopause but lacks any clinical evidence to support these claims. Most of the natural ingredients used, contain no properties that actively treat the discomforts most commonly associated with menopause Menosan is priced reasonably in comparison to other products of similar claims.
Bringing you top reviews and product analysis - Consumer Advisors.