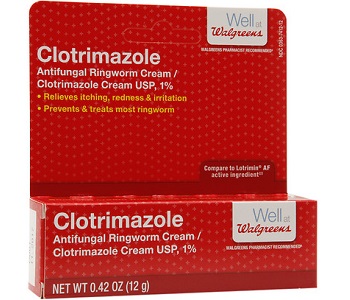 User Ratings (

0

Votes)

0
Ringworm or tinea corporis, is actually not a worm burrowed under the skin as the condition is so named. The condition got its name from the raised, bumpy, red ringed appearance on the skin which resembles a curled up worm. The condition is actually caused by a fungal infection. The fungi belong to a class called dermatophytes, which means they obtain nutrients by feeding off of the skin layers in animals and humans. Ringworm can be spread quite easily from direct contact or indirect contact with an object that the infected person has touched with the infected part of their body. There are a range of creams and ointments available for the treatment of ringworm, such as Walgreens Clotrimazole Antifungal Ringworm Cream. This cream aims to eradicate the infection caused by ringworm and relieve the itching and redness which accompanies it.
Ingredients
The  active ingredient in this cream is clotrimazole. Clotrimazole is one of many compounds which is used as a broad spectrum antifungal. It inhibits a vital fungal enzyme which is responsible for keeping the fungal cell membrane intact. When this enzyme is inhibited, the fungal cells begin to leak and eventually they burst. This product also contains a variety of alcohols and esters, including benzyl alcohol, which often act as mild, local anesthetics.
This product lacks nutrients and oils that promote healing, unlike some similar products directed against ringworm.
Dosage
After washing and drying the affected area thoroughly each time, the cream can be applied twice a day – morning and night recommended.
Possible Side Effects
This product is not for use on children under the age of two years old. If it is ingested, medical attention should be sought urgently. Use of the product should also be stopped if irritation of the skin results from usage of it.
Price
One tube, which contains  0.42 oz of Walgreens Clotrimazole Antifungal Ringworm Cream, can be bought online for $8.99. Walgreens does not offer a discount for buying multiple supplies at once, which may make the long term usage of this product more expensive.
Guarantee & Feedback
Walgreens provides a money-back guarantee if the product is returned within 30 days. The money returned includes shipping costs.
The manufacturer does not directly share customer feedback reviews, although they do share a summary of these reviews, which according to them are mostly positive.
Our Conclusive Review About Walgreens Clotrimazole Antifungal Ringworm Cream
The active ingredient and the supporting ingredients in this cream have been scientifically verified for their effectiveness against fungi such as those which cause ringworm. The directions for use are quite clear and this product is offered at a reasonable price.
Although Walgreens offers a guarantee on this cream, it is not valid for a long enough time to sufficiently test the product. Long term use of this cream is also expensive because no discount is offered for buying in bulk. Additionally, this product does not contain any ingredients to promote faster and better healing of the skin after the infection.
We also find it quite concerning that Walgreens does not show the customer reviews from which they obtain their summary, because this means that the objectivity of the reviews cannot be guaranteed.
Bringing you top reviews and product analysis - Consumer Advisors.