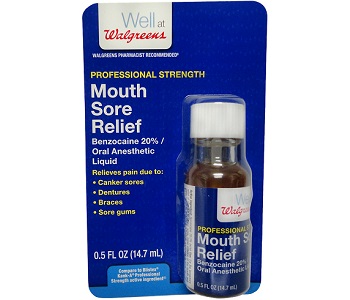 User Ratings (

0

Votes)

0
Walgreens Instant Mouth Sore Relief Liquid professional strength liquid to be used to treat canker sores, but also pain from dentures, braces or general gum soreness. Canker sores are small ulcers which develop on the inside of the mouth and on the tongue, gums, or lips. The manufacturer claims this product will relieve irritation in these areas of the mouth. To learn more about Walgreens Instant Mouth Sore Relief Liquid and how it works, read our review below.
Ingredients
Benzocaine
Benzyl Alcohol
Cetylpyridinium Chloride
Compound Benzoin Tincture
Dimethyl Isosorbide
Ethyl Cellulose
Flavor
Octylacrylamide
Acrylates
Butylaminoethyl
Methacrylate Copolymer
Oleth-10
PEG 6
Propylene Glycol
Ricinus Communis (Castor) Seed Oil
SD Alcohol 38B
Sucralose
The main active ingredient found in Walgreens Mouth Sore Relief is 20% Benzocaine. This is a numbing agent and helps to reduce pain and discomfort caused by irritation from the small ulcers formed in the mouth.
Dosage
The manufacturer recommends that the affected area is coated with this liquid. However, the area should first be dried, before applying the undiluted medication with the applicator. Allow a few seconds for the coating to form. This may be repeated up to 4 times per day, or as indicated by a health-care provider. The following warnings appear on the label:
The manufacturer does warn of allergic reactions to local anesthetics, such as butacaine, procaine, benzocaine as well as other types of caine anesthetics. This treatment should not be used for longer than a week and should be used externally only. If swallowed, a doctor or a poison-control center should be contacted. In addition, anyone below the age of 2 should not use this product; those under 12 should be supervised. This product should also not be shared, as cross-contamination could occur. Either way, if the pain, redness, or swelling worsens, or a rash or fever develops, a health-care provider must be consulted immediately.
Price
A small bottle containing 0.5 fluid ounces of Mouth Sore Relief costs $5.49 online on the Walgreen's website which is the equivalent of $10.98 per fluid ounce. Other sites have different pricing. Amazon sells the same bottle for $11.43, excluding a shipping fee of $3.46. Either way, no discounts are available.
Guarantee
The manufacturer offers a 100% satisfaction guarantee. Any unused portion with the receipt should be returned within 30 days of purchase to qualify. Shipment fee forms part of the refunded amount.
Walgreens Instant Mouth Sore Relief Liquid Review – Conclusion
Walgreens Instant Mouth Sore Relief Liquid seems a useful product for treating canker sores. We do like that the product comes with a solid money-back guarantee which allows for a free trial. On the downside, there is a distinct lack of reviews on this product, and consumer reviews are mixed on the effectiveness of the product. The main ingredient, Benzocaine is only a numbing agent and helps to reduce pain and discomfort caused by irritation and therefore only temporary solves the problem of canker sores rather than addressing the cause. There is a lack of healing properties and preventative benefits in this product. Because there are better products on the market that not only treat the pain but also fight the causes and prevent canker sores from recurring, we cannot recommend this product.
Bringing you top reviews and product analysis - Consumer Advisors.