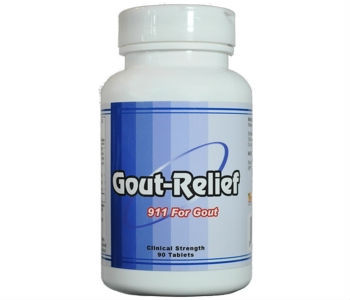 User Ratings (

0

Votes)

0
Gout Relief, manufactured by Western Herbal and Nutrition, is a natural supplement used with high quality ingredients that are rich in vitamins and minerals beneficial in gout treatment. It is highly instrumental in the inhibition of enzyme known as xanthine oxidase for the reduction of the uric acid level in the body. It is known for the reduction of swelling and pain, among other symptoms of suffering from gout. It is abundant with the essential vitamins that are often missing in a person's daily diet. The urinary tract, liver, and kidney will be kept at its best state of health while taking the supplement, as claimed by the manufacturer. It will also help in improved blood circulation and in the excretion of uric acid out of your system for such to not lead into inflammation and other gout symptoms.
Ingredients
Bromelain: Sourced from pineapple extracts, this ingredient is knwn for helping in the prevention of inflammation and pain as a result of gout attacks. It also has excellent digestive properties and can trigger the ability of the body to better absorb the other ingredients used in this supplement.
Extracts of Black Cherry: The flavonoid fund in cherries is the reason why it is a popular ingredient in gout supplements. Along with beneficial tannins, the flavonoids aid in the metabolism of uric acid to have them excreted.
Panthotenic Acid: One form of Vitamin B, this ingredient helps in the creation of steroid hormones of the adrenal glands. Aside from the metabolism of uric acid, it is a major contributor in the improvement of the health of connective tissues.
Hydrangea: In Native American traditional medicine, this is used in the treatment of problems in the urinary tract. With diuretic and antiseptic properties, it reduces the possibility of crystallization of uric acid. It is rich with nutritional components helpful in improving tissue and joint health.
Extracts of Celery Seed: In the field of alternative medicine, celery has long been regarded as an ideal choice for gout and kidney problems, such as in the case of stones. It is known as an excellent liver tonic and abundant with anti-inflammatory compounds as well.
Bark of White Willow: It contains salicin, which works comparable to aspirin when it comes to the reduction of pain.
Dosage
As it has been recommended by the manufacturer, two tablets should be taken three times in a day. Tis should be done until the gout symptoms are no longer apparent. After which, as maintenance, the dosage can be reduced to two tablets daily.
Possible Side Effects
Because it contains bromelain, there is a possibility of suffering from digestive problems and peptic ulcer.
Price
One bottle can be purchased for $40. If you buy four packs in one purchase, the price for a bottle will be reduced to $31.20. One bottle has 90 tablets and can be good for a month's supply.
Guarantee
The manufacturer offers 90-day guarantee, making you eligible to get a refund if you are unhappy in anyway with its use. It is manufactured in a facility approved by the FDA and with ingredients classified as safe.
Our Conclusive Review Of Western Herbal and Nutrition Gout Relief
While it is an excellent product, given its extensive list of ingredients and 90-day guarantee, its price is slightly higher than other choices. You can find other multi-ingredient grout relief supplements at a cheaper price.
Bringing you top reviews and product analysis - Consumer Advisors.